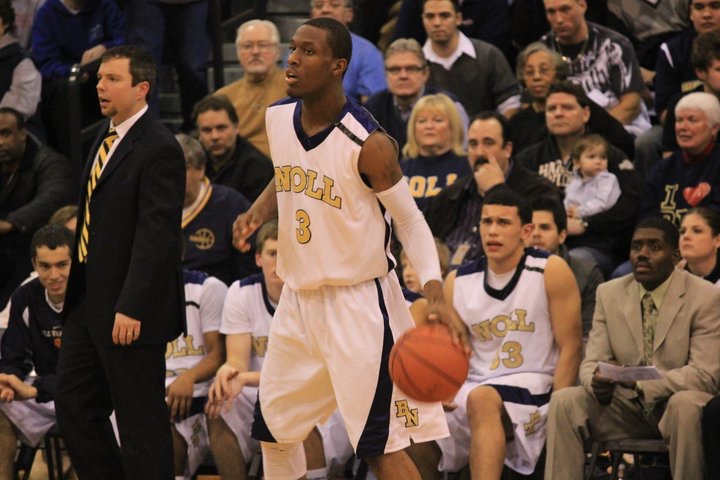 Basketball season 2010-2011 was a special time for Bishop Noll. The basketball team was incredible, going 26-0 up until the state championship and being one of the top teams in the entire state. One of the greatest sports seasons in school history didn't just come out of nowhere, though. Led by senior transfer Adonis Filer, the team could not be stopped. 
Filer averaged 16 points per game, 4 rebounds, and 3 assists on 51% shooting during the 2011 season while leading Noll to the undefeated season and state championship appearance, but he doesn't take all the credit for it. 
"What I think made the team click together is the fact that there were no egos on the team. Everybody on the team wanted to win… no one cared about the statistics, and if we did Coach Trost would put us in check about it,." Filer said.
After graduating from Bishop Noll, Filer went on to play one season at Notre Dame Prep, two years at Clemson University, and Florida Atlantic University for his remaining two years of college. After graduating from FAU, Filer has gone on to play professionally across the world, including Cypress, China, Mexico, and Africa. He's grateful that he has had the opportunity to play basketball professionally and visit so many places across the world. He most recently played for the Rwanda Patriots in the International Basketball Federation, but is currently in the offseason and unsure of where he will play next year. However, he does know that he will be playing.
The key to the success of the 2011 "dream team" was the brotherhood of it, not any specific players or stats. Filer said the transition to a new school for his senior year wasn't a difficult change because of the brotherhood of the team and the coaching of Drew Trost. 
When asked if he still keeps in touch with the team, Filer first paid respects to the late Jon Bock, who he was close friends with even after graduation. He also mentioned that he stays in touch with current Noll basketball coach John Dodson '12, Ronnye Beamon '12, and Eric Roldan '12. However, he added that he has nothing but love for everyone on the team and he still talks to them if they reach out. 
"His energy and focus was unmatched. He was so confident but also worked so hard to be the best he could and for the team," Roldan said about playing with Filer. "On the court, he was a fierce competitor but off the court, he was a super fun guy to be around that just loved to laugh and have a good time with everyone." 
Roldan added that his favorite moments from the season and from playing with Filer were his dunks and a H.O.R.S.E competition they had throughout the season. 
When asked about his favorite parts from the historic 2011 season, Filer had a few things to say, but started out with one in particular – "The fans." A sentiment shared by Filer and Roldan, the fans both in and out of the school made the team "truly feel like celebrities." Filer also said he cherishes finishing the regular season and going into the championship game undefeated, and the team coming together to make sure they won for Ronnye Beamon and his family, whose father passed away during the season. These moments stood out the most to Filer, but the entire season was "fantastic".
Filer was asked about his favorite moments in his entire career, and there were a few. He started off with mentioning the state championship run, and says he still hates to this day that they didn't win, but it is still a memory that he will never forget. "Getting the opportunity to start a game at Cameron Indoor Stadium versus Duke as a freshman in 2014 was another moment that stood out." Earning his first triple double in Mexico is another he will always remember, although he said "… there are so many moments I will always remember, it's just sometimes they escape my memory." 
Filer's greatest moment, however, is simply having a career in basketball in the first place. He is grateful that this game has allowed him to be in the position he is in today, and he'll "always be grateful to Bishop Noll" for helping push his career to the next level.