Boys soccer ready to take on conference rivals Illiana Christian in sectional championship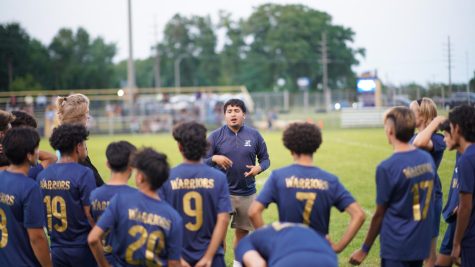 After a successful season that led to a 2nd place standing in the Greater South Shore Conference, Bishop Noll's boys soccer team is revving up for the sectional championship against Illiana Christian on Saturday.
          Following a 12-2-1 overall season record, the Warriors are more focused than ever with sectionals underway. They defeated River Forest 13-0 on Wednesday night in the sectional semifinals. 
          "I'm very excited for sectionals," says sophomore player, Sergio Meza. "I'm also excited to show that as a team we are a serious contender for the state championship."  
          Their success doesn't come without obstacles, though.  In order to advance to Regionals, the team must defeat Illiana Christian, one of the two teams they lost to in the regular season. 
          "It took a while to bring up morale in the team, especially because we only took two losses this season, so taking a loss in the last conference game was tough for us," says senior center midfielder and co-captain, Alan Nunez (11). 
          Although there are other obstacles keeping the team from advancement–including the possible season-ending injury of senior co-captain Xavier Zukley when he injured his ankle on the field, the boys have shown resilience and support for each other. They credit this to their team bond under the leadership of new head coach Edin Galvez. 
          "Our team's biggest strength is that we are united and the players and coaches have made this culture where we are a family that's together and have each other's backs," Meza says. "Pressure isn't a surprise for us, it isn't something new, we don't allow each other to fall under it." 
          Zukley's injury is a critical issue to the team, considering they will need to be at their prime for the Illiana Christian game. 
          "Obviously Xavier was a huge part of our success this season," Nunez says.  "He controlled our defense and as the other captain he played his role in every game of the season, motivating us and organizing the team. Now with his injury, we plan on having him back on Saturday, but if he can't come back by then, we have a couple players who are available to play his position and are going to do what they can to help the team win.
          The Warriors hope to follow in the footsteps of the former BNI boys soccer team who won the Class 2A state championship in 2018. They tackle the Vikings on Saturday Oct. 8 at 7pm at Illiana Christian High School in Dyer, IN.
          "We will do everything we can in the field to win," Nunez says.