Biology Club provides college, career opportunities for students interested in science
With growing interest in biology and the medical field, Biology Club was started in January 2017. Miss Rebecca Dostanti, science department chair and biology teacher, started the club because of her students love for the branch of science.
"I wanted to give them an opportunity to continue learning about biology even after they finished taking Biology and Dual Credit Biology here at Bishop Noll. I also really wanted to celebrate National DNA Day and get more students excited about science," Dostatni explained her reasoning for starting the club.
The ultimate goal of Biology Club is to generate excitement about science, especially biology. It's all about expressing the value of staying updated on science news while appreciating the lighter, more humorous and fun side of science. The club's hope: to showcase and express the importance of science to the Bishop Noll community.
Bio Club meets Wednesdays during SRT. During a typical meeting, the club focuses on all aspects of biology. Beginning with a religious aspect, every meeting starts with a prayer to St. Albert the Great, the patron saint of scientists. Club members then share science memes or biology jokes. This is followed by a discussion over the article of the week, an article that discusses the latest biology or medical innovations, research, or news.
Dostatni explained how biology club is influenced and correlates with everyday life.
"When something related to biology comes up in the news, I use a Biology Club meeting to discuss the scientific breakthrough with the students. I'll share articles or YouTube videos with them and we'll discuss it all together," she said.
Biology Club focuses a lot on genetics and DNA. DNA is a main focus; its importance, discoveries, and breakthroughs are celebrated by the club on National DNA Day, on April 25th. Dosatni says the club commemorates both the successful completion of the Human Genome Project in 2003, and the description of DNA's double helix by James Watson and Francis Crick (with the help of Rosalind Franklin's photograph in 1953), while spreading knowledge about the hereditary material.
The club offers and participates in university level programs and activities. The University of Chicago has partnered with Biology Club and invites the group on campus to their human genetics department. Dostatni explains how the partnership came to be through a visit to the campus with Mr. Ed Hreha. He was like a coenzyme and asked a question about the school to a woman who happen to be a PhD candidate researching human genetics. She was passionate about connecting high school students with opportunities in the sciences and thus catalyzed a reaction initiating Biology Club's relationship with the University of Chicago.
In the past, Biology Club has had large groups visit the University of Chicago's Department of Human Genetics each year. It celebrates National DNA Day with Biology shirts, DNA cookies, a giant DNA molecule made out of pool noodles, and a DNA Day Snapchat Filter. In 2017, the club welcomed PhD candidates and graduate students from the University of Chicago who visited Bishop Noll's to present their genetics research. Dostatni explained the school's support and excitement towards biology through huge turnouts to DNA celebration and presentation attendance of over 100 students.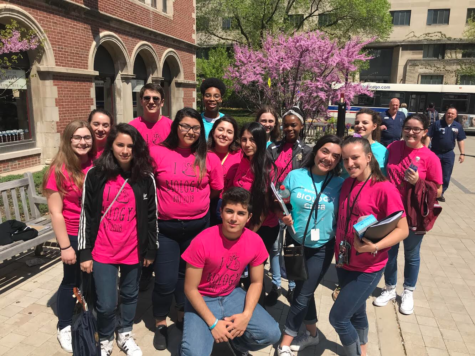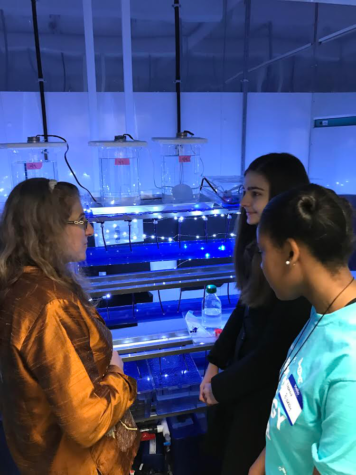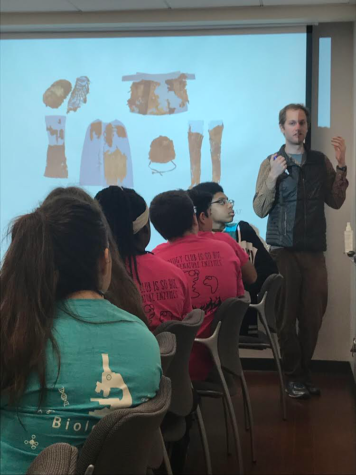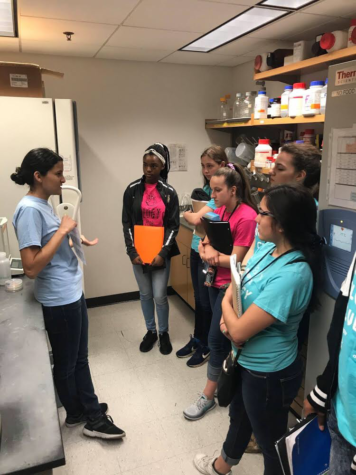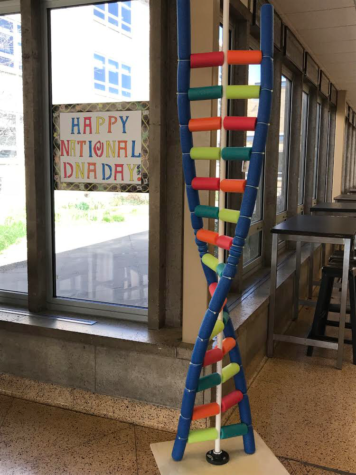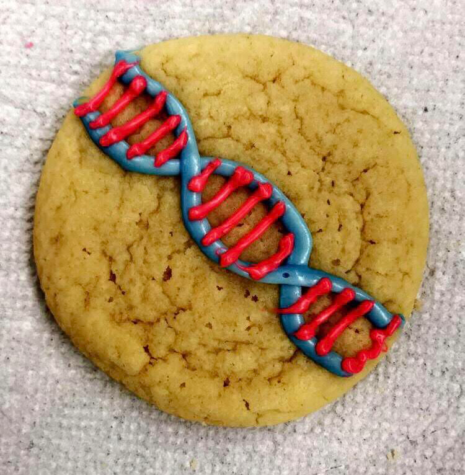 Currently, the club is made up of 20 to 30 students who are interested Biology or want to pressure a career in Biology. Sophomores Abigail Kawalec and Carmelina Komyatte joined biology club as freshman due to their love for science. The club has exposed them to a higher level scientific environmental science, expanded their love for biology, and pushed them to presume careers in biology and the life sciences. While Juniors Catherine Menge and Angela Luna simply joined Biology Club due to their interest in Biology, despite having art and business career choices. Senior David Mendoza plans on studying engineering, but his interests in the sciences and life allowed him to become an active Biology Club member. Meanwhile, junior Giovanni Komyatte used his love for science and exposure to the university programs to guide him towards a future in medicine. His love for science and biology led him to participate in the National Leadership Academies' Congress of Future Medical Leaders as an Indiana representative. In addition, senior Rebecca Vazquez joined the club due to her love for biology: visiting research labs and talking with some of the researchers a the University of Chicago made her realize she wanted to major in Biology. Her hard work in through science led her to obtain a full ride scholarship to University of Chicago.
The future of Biology Club holds weekend field trips to the University of Chicago in February. Dr. John Novembre, a computational biologist and recipient of the MacArthur Fellowship, has invited a few members to learn about computer programming for biologists. The Club is also talking to Purdue Northwest's Biology Club and is in the of planning something with them. At the sametime, officer elections are in the works for a Biology Club President and DNA Day Chairperson.