Bishop Noll's 2021 Salutatorian, Jacqueline Vazquez, shares her valuable moments throughout her Bishop Noll years and her future plans.
Jacqueline plans to study at Boston University to major in Astrophysics.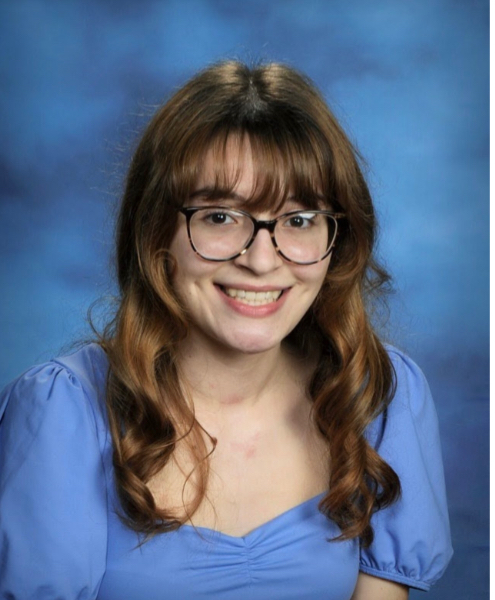 As the 2021 school year wraps up, salutatorian Jacqueline Vazquez recalls her hard work and dedication to her education all throughout her time at Noll. 
Wanting to keep her speech saved for graduation, Vazquez says, "I don't want to give the whole thing away, but I give a lot of thank yous, most of them personal. I reflect on what this past year has been like and I end my speech by talking about two things that I personally feel are important. I don't think there was anyone that particularly inspired my speech. I more so just touched on what I thought was important and needed to be said. I guess in some way I was inspired by recent events in our society, and I felt like I would be going against my morals if I didn't acknowledge that or speak on it." 
Vazquez grew up attending Irving Elementary and then St. Casimir, right  up until she came to Noll for high school. 
Although becoming salutatorian was not a surprise to Jackie, she mentions not specifically making that a goal. She also mentions her motivation in order to maintain her grades. 
"Believe it or not, being salutatorian wasn't my goal, I just like to keep my grades up." Vazquez says. "I realized this year that I was going to be salutatorian. Honestly, I really try to keep my grades up to make my parents proud and happy. However, I also just like to have good grades, so those two things keep me motivated."
Vazquez, who will be attending Boston University in the fall to study astrophysics, maintained an advanced schedule, taking several ACP and dual credit classes, including dual credit chemistry and dual credit biology. The challenge for her was not procrastinating.
 "I procrastinate a lot–A LOT,," she said. "As you can imagine that poses quite a few challenges for me. This school year in particular, there was a lot going on in my personal life, so sometimes it was a bit harder to keep going, but I pushed through." 
Valedictorian,Carmelina Komyatte and Jacqueline have been friends, along with other seniors, throughout their years at Noll, continuously motivating each other in order to succeed. 
"Carmelina and I (and our friend group in general) are really supportive of each other." Vazquez says. "We really try to push each other to do our best, and be there for one another when it gets hard. I'm really grateful to have them, and Carmelina, as friends. I feel like they genuinely do their best to be there for me and I'm forever grateful for all they've helped me with."
Jackie continues with expressing her personal growth while being at Noll because of the Speech team and her challenging classes. As a four-year member of the team, she was named a National Speech and Debate Association Academic All-American this year.
"I think being at Noll helped provide me with opportunities that I might not have gotten at another school," Vazquez  says. "I've gotten to experience a lot through being on Noll's speech team, and feel like I have grown a lot as an individual from it so that's one way I think BNI has shaped my journey. I also was able to do summer programs, which I consider to be very valuable experiences, and I don't think I would've got those experiences if my teachers hadn't recommended those to me."
As a tentative astrophysics major, Vazquez hopes to work in astronomy and space physics one day.. "While at one of my summer programs, I did lab research for a week and it was a really valuable experience for me, so I hope to do that for my future career," Vazquez says. "Also, doing research and learning new things is something very important to me, which is another reason why I'd love to be a researcher in my field one day."
About the Writer
Cecilia Tinoco, Staff Reporter
Cecilia is a senior at Bishop Noll. This is her first year writing for the JourNoll. Cecilia enjoys writing about World News, Sports and Entertainment....