Theatre department marks 10th anniversary of 'High School Musical' with March production
Hang on for a minute...we're trying to find some more stories you might like.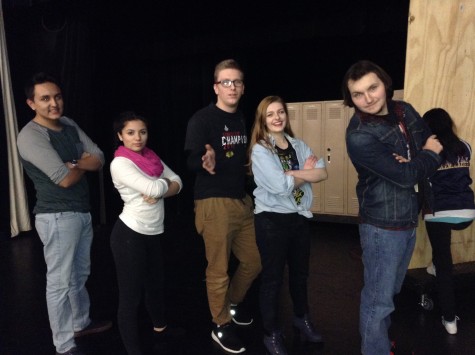 After last year's musical production success of Seussical the Musical, Drama Club director Mr. Kevin Burgun knew that he wanted to recreate that success this year.
However, deciding which show to put on was a little difficult.
  "After the success of Seussical last year, I knew that we wanted to do another 'family' musical. I'm going to be honest, the leading choice was James and the Giant Peach, which I was totally stoked for. But the rights release got pushed back a year and so we needed another strong, family-focused musical," he said. "High School Musical was the perfect fit for us: a lot of parts, big ensemble, high-energy."
High School Musical follows star basketball player Troy Bolton and shy, book smart Gabriella Montez as they meet and create a relationship that rocks the status quo at East High. This year, the Disney Channel original movie is celebrating it's 10 year anniversary which made the show even more special for the school's cast and crew.
  "I definitely think it being the tenth anniversary of High School Musical creates more of an appeal to the show. It's on people's minds, the specials have been airing on T.V., people are feeling the nostalgia. It's such a great time to be doing this show and to celebrate all that it's brought to our childhoods," said senior Hailey DeWolf, who is one of the students portraying Sharpay Evans.
This particular show is also double casted, giving different students the chance to embody some of the iconic lead characters. Junior Tianna Orr, who is one of the students portraying Gabriella Montez, jumped at the chance to audition.
   "When I was a little girl watching Disney Channel, I never wanted anything more than to be Gabriella. When I heard we were performing this musical, the little Tia inside me couldn't resist the chance!"
  The same could be said for junior Edward Zarndt, who is portraying Ryan Evans.
   "Ever since I saw the original High School Musical, I wanted to do a production of it…I never thought it would happen till the announcement came that it would be our spring production," he said.
  While Burgun and the cast are excited, they are well aware that they will face some challenges with the show being so popular.
  "The biggest challenge will be to not just imitate the movie," Burgun said. "Whenever you are doing a version of something well known (High School Musical, The Sound of Music, Joseph and the Amazing Technicolor Dreamcoat, Shrek, etc.), the challenge is to produce something your audience recognizes but with an angle that makes the version special and unique."
  Unlike previous shows, this production will feature not only a variety of students, but teachers as well, which was a tough decision for Burgun to make.
  "First and foremost, I waited to make sure that they weren't 'taking' a role from a student. This is still a student production. But after I was satisfied that the decision wouldn't take away anything from the student experience I made the decision for two reasons," he said. "1) I think it's neat that the high school students are played by high school students and the adults by adults. (Mr. Herr also has a cameo.) 2) Students learn from being around people who are good at what they do. They'll see how adults with performing experience approach the show and roles and that creates a great learning experience for them."
   The show will feature Mrs. Elizabeth Conley as Mrs. Darbus, East High's flamboyant Drama teacher, and Mr. Mark Werkowski as Coach Bolton, East High's dedicated boy's basketball coach and Troy's father.
  Despite having seen the movie, audiences are being assured that this production has some surprises in store.
  "A musical onstage will always be different than a musical on your T.V," Orr said. "It's a whole different experience because onstage the audience has a chance to break that fourth wall and be apart of the show."