Jaclyn Wooley, Staff Reporter
September 25, 2020
Bishop Noll's first blood drive of the year was rescheduled to Oct. 23 after a September COVID case among the school community led to its cancellation. This year, social...
Women's Empowerment Club Hosts Their First Virtual Meeting With Local Middle Schools.
September 25, 2020
Bishop Noll's Women Empowerment club hosted their first virtual meeting with local middle schools on Monday, Sept 21, 2020. Noll's Women...
Bishop Noll admissions offers virtual options for incoming Class of 2025
September 25, 2020
Without school representatives leaving the building to visit feeder schools and without prospective students allowed to enter the school, how...
Bishop Noll celebrates Founder's Day with outdoor movie
September 21, 2020
On Tuesday, Sept 15, Bishop Noll kicked off their Founder's Day celebration with an outdoor movie night on the football field for students...
Cecilia Tinoco, Staff Reporter
September 18, 2020
Six Bishop Noll freshmen have been added to Noll's 2020-2021 roster, ushering in a whole new slew of young hockey players hungry for a taste of the State championship ring. Freshmen...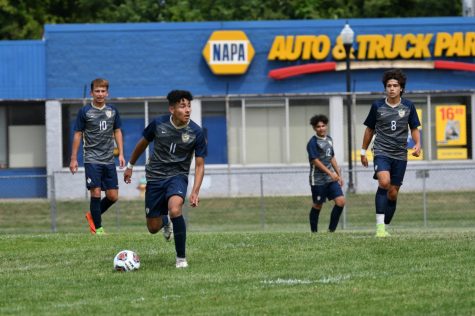 September 18, 2020
The Bishop Noll boys Soccer team came out with a dub against the Portage High School on Tuesday night,...
Football team loses 2nd straight game to Boone Grove
September 18, 2020
The Bishop Noll boys varsity football team took on Boone Grove as their first game away at Valparaiso...
Three talented freshmen bring talent to Lady Warrior soccer team
September 11, 2020
The Bishop Noll girls varsity soccer team took on Griffith this past Saturday at Griffith. It was a hard...
Abigail Kawalec, Staff Reporter
February 13, 2019
    This April marks the 20th anniversary of the Columbine mass shooting which left 30 dead and was one of the first mass shootings covered by the media. Since the two...
May 23, 2018
My favorite place to go to for treats in any weather is The Sugar Factory because it's so cute and...
May 22, 2018
Cold Stone Creamery is located in Dyer, IN and is known for their ice cream treats, cakes, smoothies,...
May 22, 2018
The young and vibrant Muchi Muchi Yogurt located on 95th St,  is rumored to be a staple treat for those...