Salutatorian Hannah Evenson excels on and off the court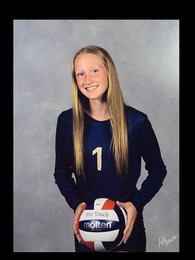 The salutatorian of Bishop Noll's class of 2023 is Hannah Evenson. Evenson's hard work and perseverance all throughout her 4 years at Bishop Noll earned her a cumulative gpa of 4.46. She will be attending Aurora University in Aurora Illinois where she will major in actuarial sciences and finance. Evenson is also committed to playing Division 111 volleyball at Aurora as well. 
The possibility of becoming salutatorian was something that Evenson didn't know about until high school.
"I didn't know that the salutatorian title existed until high school, It wasn't until my junior year that I found out that I had a possibility of earning this title," said Evenson.
Evenson gave up a lot to have such a high level of success in both academics and sports.
"I had to sacrifice a lot to achieve this title, I sacrificed hanging out with friends, getting more sleep and school events, " said Evenson. 
During her 4 years at Noll, the biggest setback she faced was the Covid-19 pandemic. 
"The biggest setback I faced at BNI was the pandemic. The pandemic started at the end of my freshman year and created a lot of restrictions for the next 2 years, said Evenson. This was difficult as I was just starting to get use to the environment at Bishop Noll."
Evenson came from St. John the Baptist school. 
"St. John the Baptist really prepared me for the transition of going into high school. The advanced classes challenged me and gave me credits for classes that I didn't have to take in high school."
Evenson's incentive to do so well in school comes from her family. 
"My family has been my biggest supporter all 4 years of high school. They've supported me through everything. They've picked me up at my lows and celebrated with me during the highs."
Along with her family playing a huge role in her academic success, math teacher Mark Miller and spanish teacher Ana Acosta played a huge role as well.
 "Mrs. Acosta and Mr. Miller helped me a lot with all my academic successes. They   both pushed me to do my best and helped me excel as a student. They also encouraged me to give it my all in everything I do." 
In her 4 years at Bishop Noll, Evenson was involved in a variety of clubs and programs but the program that has shaped her to the person she is today, is volleyball. 
"The volleyball program has shaped me into the person that I am today. It's taught me many valuable life lessons such as the value of hard work and how to overcome adversity. The program has helped me so much that I now get to live out my dream of playing at the collegiate level, said Evenson."
In the fall, Evenson will be faced with the challenge of balancing school and collegiate volleyball. 
"I plan on balancing student and athlete life by keeping up my time management skills. If I can maintain those skills, I'll be able to succeed in managing both school and volleyball," said Evenson.