Bishop Noll students opt for in-house DC classes over PNW's offerings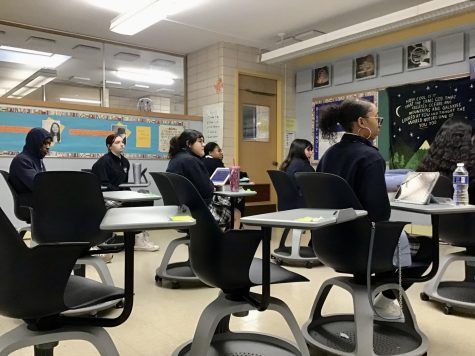 Despite the offerings for Purdue Northwest afternoon classes and half days in the building, second-semester seniors who have been offered the option of taking college-level classes at PNW I are opting to take in-house dual-credit courses instead. 
For the second year, Bishop Noll has offered a program to seniors that would allow them to travel to Purdue Northwest for afternoon courses as opposed to finishing the school day in the building. Last year, many students were happy to take on the challenge of juggling classes at two different schools; but this year, only one senior has decided to take on PNW. 
The sole student taking advantage of this program is senior Kimberly Perez. 
"It honestly did surprise me that I was the only student in the program considering the amount of students that took the opportunity the previous year," says Perez. 
At PNW, students would be asked to take only one or two afternoon classes instead of the usual three they would take at Noll, but even then, seniors are opting out. Some believe the lack of students interested in the program is due to new additions in the BNI in-house dual-credit class lineup. 
"We believe this was due to the new class addition of DC Speech for juniors and seniors to take," says Senior  Academic Advisor Mr. Kevin Smith. "Once that was added, we had a lot of students back out of the on-campus classes and stay."
Seniors, on the other hand, have their own plethora of reasons for not taking on PNW classes. 
"I feel more comfortable in my own familiar environment with teachers who I already know and classmates I've had for the past four years," says Viviana Rosas, who is enrolled in DC Speech. "I felt like I should be  taking baby steps before jumping into an entirely new environment with people and professors I don't even know." 
Other reasons are simply more practical.
"You get the college credit regardless by just taking a dual-credit at Noll," says Jatziry Medina, who is enrolled in DC Music Appreciation . "Plus it's less gas waste." 
There are a multitude of factors that have led to students' decisions to stay in-house, but Perez, who intends to study biology at The University of Michigan, still believes that the program is worthwhile. 
"I would definitely recommend this program for underclassmen, especially those looking to get a step ahead," says Perez. "PNW is a great opportunity to experience a new community and prepare for the transition into college."