Bishop Noll's boys hockey team seeds first place in Class 3A at close of the season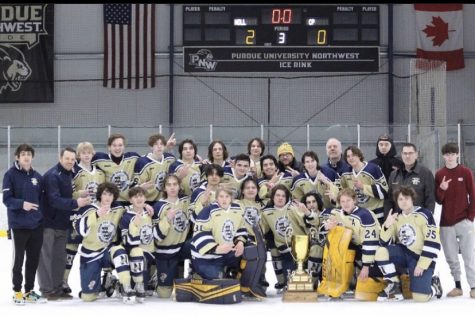 Bishop Noll boys hockey looks forward to Stare following the release of their #1 spot seeding in Class 3A by the IHSAA. 
 After competing in the 4A level at the State tournament last year, the hockey team is ready to make a comeback in this year's State championship. This year, the team comes out as the #1 seed in Class 3A in Indiana because of their overall  record of 11-10-1 .
"While I can't say I expected for us to be in the top spot, it doesn't surprise me," says senior forward/defense, Christian Figueroa. "Every season our team improves and I grow more confident every year seeing our progress."
Noll's hockey team played in the 4A class, Indiana's biggest class, previously because of their State championship wins in 2018 and 2020. Last year, they placed 6th in the State. 
Last season, the prep team, Bishop Noll's JV hockey team, won the State championship in their division.
Following the release of this season's rank, the varsity hockey team participated in the Roper Cup tournament where they beat rival Crown Point for the title. The next big thing for the boys is focusing on state where they'll possibly go up against teams like Lake Central, Carmel, and Evansville, fellow 3A seeders. 
          You can catch the boys on the ice at their home rink, The Kube in Hammond, where they next play on Feb.17 vs. Lakeshore St. Joe. You'll also be able to catch them in South Bend, IN where they'll be competing against Evansville Purple on Feb. 24 for the first round of sectionals in the state tournament. 
          "The work we have been putting in is really going to show these upcoming weeks," says Figueroa.