Ayanna Wash makes her mark on Bishop Noll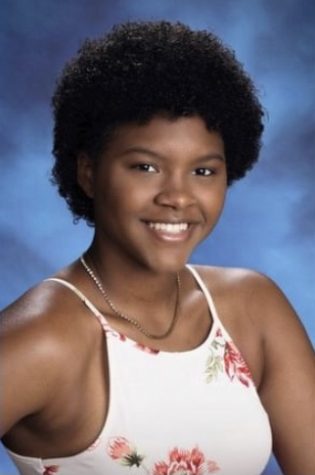 Senior Ayanna Wash is Bishop Noll's 2023 valedictorian. 
Determined. The word this year's valedictorian, Ayanna Wash, used to describe herself as a student at Bishop Noll. This year, Wash landed the spot of valedictorian thanks to the hard work she's put in for the last four years at Bishop Noll. However, Wash admitted the honor came unexpectedly to her. 
"Valedictorian was never my goal," said Wash. "I am very lucky and academics come easily to me for the most part. I enjoy learning and I push myself hard every day. I work hard because I want to be better, not because I was aiming for the title."
Although it was an unexpected victory, no one said it ever came easy. Wash admitted to facing challenges in the form of  depression, anxiety, and challenges in the classroom, but nevertheless faced them head-on in ways that helped her to continue to work hard throughout her career at Noll. 
"Classes that were especially challenging for me were honors sophomore English with Renwald, AP Calculus with Miller, DC Biology with Dostatni, DC US History with Julian, and DC US Government with Arteaga," said Wash. "To get through these classes, I learned the most effective way for me to study and made sure I stayed on top of all my homework."
Aside from facing challenges, Wash has been able to accomplish numerous goals including being the vice president of the BNI Drama club, being the president of the BNI band, and most recently starring as the lead of the Spring 2023 musical. One accomplishment stands out in particular though; that being that Wash is the first black valedictorian in Bishop Noll History. 
"I was not aware that there were not any Black valedictorians prior to me," Wash admitted. "Valedictorian was never a specific goal of mine. I just always push myself to be the best I can be and to do everything I can."
Wash thanks her mom the most for helping her succeed not only at Noll, but throughout her life. She attributes her work ethic, spirit, and determination to her family. 
"One person that has inspired me to succeed is my mother," said Wash. "She has worked as hard as she could all of my life. She never gives up. She is strong and determined and she instilled her spirit into me. Without her, I would not be where I am today. She cared for me, helped me with school, and taught me how to live my life with respect. I also grew up in a family that focused on good grades and a good education because neither of my parents went to college. I have made my mother the proudest parent." 
After graduation, Wash has big plans ahead of her and countless goals in mind. 
"I want to attend Marian University in Indianapolis," said Wash. "I will be a Biology major and be set on a PreMed course. After my four years, I will attend medical school with hopes of becoming a surgeon." 
Wash will make her valedictorian speech at graduation on June 1. 
"I will miss the people the most. I have built so many beautiful and meaningful friendships," said Wash. "I will miss all the people I consider friends and family."