Marching band continues to raise funds before December trip to Liberty Bowl
Hang on for a minute...we're trying to find some more stories you might like.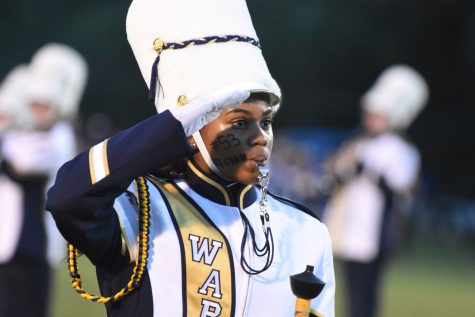 For the first time ever, Bishop Noll has been invited to the Beale parade, which takes place Dec. 29, the day before the Liberty Bowl in Memphis. Bishop Noll will be competing in both a band and show competition at the event, which could lead to  the possibility of playing with Motown legends The Commodores at halftime.
Mr. Rocco Carioto surprised the band with the news to attend the Beale parade in April 2016 and has been fundraising ever since. Senior drum major Taylor Reid's initial reaction was disbelief.
"After Mr. Carioto began explaining I realized he was for real. I thought it was just going to be like another tour and we would be watching big college bands perform, then he said that we were the ones performing and I couldn't believe it," she said. "Over the summer, during band camp, he gave us the play by play about what we were going to be doing and I believe that's when it all became real to us and we said 'Let's do it'."
The band has had various fundraising efforts at restaurants and in ad sales in order to raise money towards their $18,000 goal for travel expenses. According to Carioto, if the band can raise $5,000 on their own, the alumni will match that for a total of $10,000. So far, the band has managed to raise around $3,000.
Carioto says that he'd like each band member to only have to pay about half of travel expenses, around $800-$900 each.
Regardless of the setbacks, the band has found a way to overcome everything and continue to push through.
"Some stores and restaurants stopped allowing people to fundraise at their locations which made it a little difficult for us to do different fundraisers. Also many people in the band are involved in a lot of extracurricular activities, so for some fundraisers where we had to perform it was tough trying to get as many people as we could to help out. However we've managed to resolve things and we were able to get a lot done. We've raised a ton of money thanks to these fundraisers which we are very grateful to everybody who helped us out," said Reid.
The itinerary for the weekend includes much more than the Beale Parade. The band will compete in a field show competition, parade competition, concert band competition and jazz band competition. During the band's downtime, they will tour Graceland, the home of Elvis Presley, and the Civil Rights Museum, which is attached to a restored Lorraine Hotel where the assassination of Dr. Martin Luther King Jr. took place. Every high school band involved in the event will attend a rodeo and an awards banquet dinner where awards will be passed out, dinner will be served and a DJ will provide dancing after dinner.
"The tour is a an event that will raise our band program to an entire new level. These bands we are competing against compete nationally at various bowl games. No matter where we place, our experience will gives us a better band in return," Carioto said. "Students have learned how working as a team for a common goal can move mountains. When you reach a personal goal you never thought you could reach, then you have won period! You stretch your abilities and your confidence. For me the bowl game is a means to an end. The real prize is the journey we are on to learn about self-sacrifice, teamwork, dedication and successful hard work is the means to this end."
Save