Netflix's hit original miniseries "The Haunting of Hill House" is a horror must-watch
Looking for a new, haunting, bone-chilling show to binge? For you Netflix viewers, you're in luck! "The Haunting of Hill House" is a supernatural horror miniseries on Netflix, directed by Mike Flanagan and produced by Amblin Television and Paramount Television. The story covers a broken family who lives in fear of their haunted memories from living in their old house which is supposedly at fault for their trauma. The angry but fearful family members start to experience separate events relating back to their childhoods in Hill House. We viewers join them on this thrilling adventure to restore their once broken and traumatized family.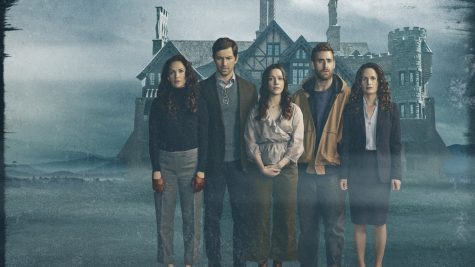 "Can we please watch Hill House now," my older sister Alondra asked. "I actually just want you to watch it so I can finally have someone to talk to about it." I could tell how much Alondra thought of this show as soon as she told me about it, telling me how good of a show it is.
When I gave in to her excited banter, I didn't know what to expect, but was curious. As a thriller and mystery enjoyer, I can say that it was one of the best shows I've ever watched. My sister and I, along with many other reviewers like on Rotten Tomatoes (which had a 93% for critic ratings and a 91% audience score), very highly recommend "The Haunting of Hill House" to you ghost story enjoyers especially. It takes you on an adventure of thrill, horror, jumpscares, heartbreak and love, and is as satisfying as its "chilling payoff."
"The Haunting of Hill House" has you on your feet the whole time, watching the characters make risky and life-threatening decisions. It's a must-watch, especially during the spooky holidays. While being so brain-teasing and thought-provoking, it feels as though some situations should have some sort of explanation or clarification as views can get lost on what's going on. However, this is most likely because these scenes can have meanings left to the view's interpretation of that event.
As someone who has Netflix and uses it regularly, I can say "The Haunting of Hill House" is one of the best shows Netflix has to offer. It's a mystery masterpiece—a terrifyingly terrific treasure, a television chef-d'oeuvre.
    Look for this show on Netflix and enjoy! Cuddle up with a partner, grab some popcorn and fetch your drinks—no show is good watching on an empty stomach and even emptier heart. Also, interesting hint and Easter egg while watching the show: pay attention to the events that happen; a lot of later events are foreshadowed by old ones. As for the Easter egg, pay attention to the mirrors, windows, and backgrounds of scenes—if you look closely, you can often find a person or person's head hiding in the dark! CREEPY!