Bishop Noll's speech team ends their successful season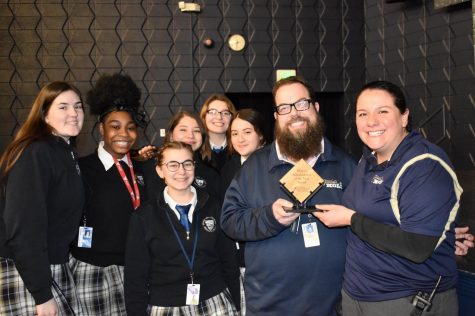 On Saturday, February 29th Bishop Noll's Speech Team competed at their sectional tournament. The team's successful season led to five qualifications for the IHSFA State Competition to be held on Saturday, March 14 at Fishers High School in Fishers, IN. 
Due to circumstances to keep visitors safe from the COVID-19, IHSFA has postponed the state tournament in hopes to reschedule the tournament later in the year. IHSFA hopes to run the tournament without interference to upcoming proms and graduations in order to ensure attendance from all qualified candidates. 
Despite the current setback, the 2019-2020 regular season ended strong. The team had four direct entries to the state competition. Juniors Abigail Kawalac, Ruby Meza, and Jaqueline Vasquez qualified for the state tournament.
The team qualified in designated events such as Broadcasting, Impromptu, International Extemporaneous Speaking, and Original Performance. 
On Saturday March 7th, Angela Luna received news that she would be attending the state competition for impromptu speaking. 
"I walked into our district tournament Saturday morning," said Burgun," and first thing out of the sectional chairs mouth was, 'Your impromptu alternate is being moved up, she's going to state.' I was pretty geeked. Angela went to state her freshman year, and we really worked hard to bookend her career with a state berth her senior year."
Abigail Kawlac became the first double event state qualifier since the 1980's. 
Mr. Kevin Burgun, coach, explained Kawalac's success during the season.
"Abbie is an immensely talented speaker. We did a little pivot this year in terms of her events, and it paid off. She is our first dual-event qualifier in Volume 2 history," he said.
Burgun also discusses strategies, event selection, and preparation.
"Ruby has flawless enunciation and elocution; it was a no brainer to put her in radio. Jackie knows what she needs to do, it's her third year qualifying and we focused on asking her what she needs to be successful," he explained.
Beyond four state nominees the team also had eight state alternates: Angela Luna (International Extemporaneous Speaking and Impromptu), Cecilia Figueroa (United Extemporaneous Speaking), Skylar Davis (Broadcasting), Giovanni Komyatte (Original Oratory), Ruby Meza (Poetry), Emma Short (Original Performance) and Kailyn Green (Program Oral Interpretation). 
Burgun touched on the steady approach the team had towards the season. The team treated sectionals like any other regular season tournament. He expressed how the season was filled with changes, surprises, and excitement.  The team exceeded personal records, worked hard, and had fun. 
The team's successful season was highlighted through the Calumet Forensics League championship. During the season, the team also garnered more individual ribbons and team sweepstakes trophies than they had in a single season. 
Beyond speaker success, the National Speech & Debate Association awarded NWI District Administrator and Coach of the Year respectively to Lorenza Pastrick, principal, and Kevin Burgun, speech coach. 
The team plans to continue their postseason success at the Indiana Catholic State Competition held at Marian University in April. The tournament is scheduled to run, but current COVID-19 precautions and future Indiana decisions may impact future decisions for the tournament.