2012 alum Ms. Hannah Dominiak returns to teach digital design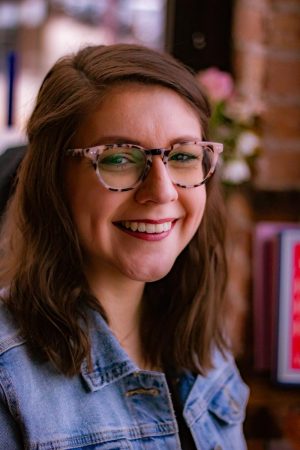 Bishop Noll welcomes back 2012 alumna, Ms. Hannah Dominiak, as the new digital art teacher and Rosetta Stone moderator for the 2020-2021 school year.
Although this is her first year teaching, Dominiak has previously worked as a newspaper designer locally, an art director in Chicago, and in social media marketing/advertising. 
"I can't wait to bring my real-world experiences to the classroom to show students just how digital design and art can be applied not only when they get to college, but in a future career as well," says Dominiak. 
She is excited to teach topics in design and art, including illustration, journalism graphics, lettering, and more. 
Digital art, senior Jennifer Real, says, "I'm looking forward to learning about branding, especially on social media and how to incorporate art and creativeness on your online platforms."
"Art is a hobby for me and there are so many forms that I use and enjoy in my everyday life, this class is expanding my skills. It's something that will take me out of my comfort zone and come in handy for my future," says Real. 
During her time at Noll, Dominiak was a major part of the theatre department ad journalism staff. She spearheaded the live-streaming and broadcasting club when the boys basketball team went to the State championship in 2011. 
"I am so thankful and excited to be back at Bishop Noll. It's so weird getting interviewed by the paper I used to be Editor-in-Chief of! I can't wait to see where the year takes me and my students," says Dominiak.