Bishop Noll admissions offers virtual options for incoming Class of 2025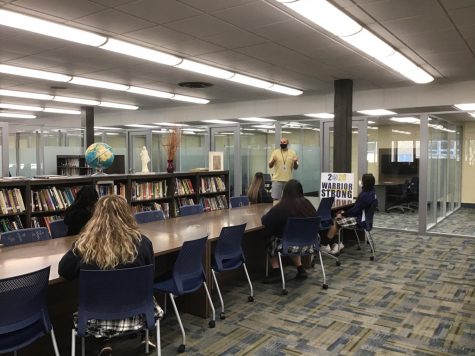 Without school representatives leaving the building to visit feeder schools and without prospective students allowed to enter the school, how will the class of 2025 decide that Bishop Noll is the right fit for them?
Despite strict CDC guidelines permitting no outside visitors in the building and no students leaving campus and returning the same day, Bishop Noll Admissions Director, Jeff Stur, has promising plans to recruit students from all over the region. 
As of right now, traditional shadow days are not possible. Hopefully by the second semester the cases of COVID will decrease, but for now BNI is not allowing anyone to visit the campus. 
"Depending on how things are trending with COVID-19 in the second semester, there may be an opportunity to host individual shadow days in late Spring," said Stur. "However, the safety of our students, families, faculty and staff will always remain top priority this year, as we never want to jeopardize the health and well-being of these individuals. My approach to this school year is to be as proactive and flexible as possible, have backup plans, and take things one day at a time." 
Along with no shadow days, the BNI student ambassadors are not able to travel to local diocesan schools to talk to grade school students about their experience at BNI. These restrictions require many unfortunate changes, but it is a priority to keep the warrior family safe. 
Student Ambassador of two years, junior Ethan Lopez says, "The challenge when convincing students to come to Noll is showing them that we can create a protective environment where they can feel safe and have the ability to be themselves." 
Student ambassadors play a huge role when making connections with the incoming freshman on shadow days and school visits. With COVID-19 restrictions the ambassadors are forced to find creative and innovative ways to carry on with their job. 
"I am currently working with our feeder schools to coordinate days when we can host virtual school visits with myself and our student ambassadors," says Stur. "Instead of going to the school, we will be positioned at a location inside Bishop Noll and conduct our school visits virtually." 
Another aspect of admissions is the Open Houses. Towards the end of the year, Bishop Noll hosts two Open Houses to showcase the selling points of the school. Stur says he is working on coordinating virtual houses for incoming students and their families. 
"As a student ambassador, I'm excited to show the experience of what it means to be a Bishop Noll Warrior," says Lopez. "We want to show them (the incoming freshmen) how BNI is professionally handling COVID-19 and the rules that we have in place to ensure our safety." 
Although the admissions program is facing new challenges this year, Stur remains hopeful to see an increase in enrollment for the Class of 2025. The Class of 2024 has the largest enrollment five years, despite the start of the pandemic in early 2020. 
Next year's goal is to have a freshmen class of 170. 
"Our faculty, staff, and students continue to do a phenomenal job creating an environment that is centered around family and is a breeding ground for great success to be achieved both inside and outside the classroom," says Stur. "We will find creative ways to connect with our prospective students with a focus on everything Bishop Noll has to offer as well as all the ways we've managed to successfully navigate through a pandemic that caused so much uncertainty and continues to challenge us daily. Because of this, I am truly confident we will remain top-of-mind for many of our prospective students and their families when it comes to deciding the high school to attend."