Chicago travel ban causes problems for Bishop Noll Chicago residents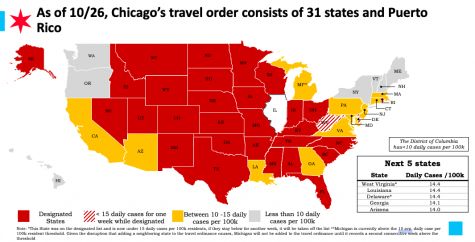 On Friday, Oct. 16, the city of Chicago added Indiana to the list of emergency travel orders that requires travelers going to or  from the city to quarantine for 14 days because of the increase in COVID-19 cases in Indiana in recent weeks. 
The travel ban excludes those that travel to Chicago or to Indiana for  essential travel, such as working or going to school in the city. Any other reasons for travel to or from the city requires the individual to partake in a two week quarantine period. 
Chicago mayor Lori Lightfoot and Chicago Public Health Commissioner Dr. Allison Arwady cited Indiana's recent 4.5% positivity rate as a reason for the travel ban and are warning violators of a fine of $100 to $500 per day, with a maximum fine of $7,000. But Chicago residents and Indiana residents who frequent the Windy City are wondering just how effective–and how well-enforced–this emergency travel order will be.   
This ban is mainly targeted towards Chicago residents who regularly travel to Indiana for food, gas, or groceries. 
Chicago Public Health Commissioner, Dr. Allison Arwad, falsely states in an article by the Chicago Sun Times that in Indiana, mask restrictions are not in place, which is false. Indiana requires people to wear masks in any enclosed public building. 
This new travel ban affects many students and faculty at Bishop Noll. 41 students and 2 staff members at Noll are listed as Chicago residents. Majority of the residents live on the board of Indiana in either Hegewisch or the East Side.
Junior Darci Stailey, a Chicago resident, says that she is not worried about the travel order. She says there are too many travelers to keep track of and the city of Chicago does not have enough police authority to mandate who enters or exits the city and if they quarantined for 14 days or not. 
"I'm three miles from the Indiana border so it's more convenient for us to go to Indiana for all our needs such as gas and groceries," says Stailey. "The schools also provide better opportunities in Indiana." 
Junior Anaiz Espinoza, also a Chicago resident, says that although there are some disadvantages when living and going to school in two different states, Indiana has more opportunities for her.
She adds that sometimes living in Chicago affected her social life. She says that living farther from her classmates and the school meant she could not attend as many school events and activities they wished to attend. 
"Before I was able to drive, I felt a disadvantage of not being able to attend school events because since I lived farther than most people, nobody was able to take me to school events," says Espinoza. 
Social studies teacher Mr. Ryan Julian, a former Chicago resident who now lives in Indiana, often travels to the city. Julian says he feels that the travel order is more of a wake up call. He says that with the rising cases and travel orders it has been tough not being able to see friends and family that live in Illinois as much as he used to, but ultimately people need to reflect on their decisions to help slow down the spread of the virus. 
"Most, not if all of my friends and family live in Illinois, so it has been tough not seeing everyone as much as we used to," says Julian. "We usually host a very large Halloween party every year with friends, but this year we were forced to cancel the event, which is a bummer."
Julian believes that the ban will help people realize that minimizing contact with others will help reduce the spread of COVID-19; people will be more aware of how quickly this disease can spread. 
"Chicago has a heavy population density and in order to control the heavy loss of life with this disease, there needs to be some sort of regulation," says Julian. "I do believe it is necessary for individual psychological and reflective purposes, but there is no way to enforce these regulations unless laws are passed. People just need to take some individual responsibility to help slow the spread down."