Freshman theology teacher leaves to become principal at St. John the Evangelist
"Be Who You are Meant to be and Set the World on Fire"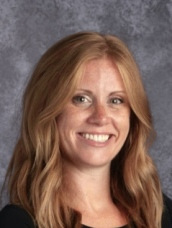 As Bishop Noll students are preparing to leave for the school year, they were introduced to some bittersweet news: : the freshman theology teacher, Mrs. Katie Fredericksen, plans to depart from our BNI nest and continue her journey at St. John the Evangelist as the new principal. She joins the ranks of four other former Bishop Noll teachers who are now principals in the Diocese of Gary.
Fredericksen was offered the position during a tough search conducted by  the St. John the Evangelist  priest, Fr. Sammie Maletta. According to a statement to the parish by Maletta, because she is a part of this parish and knows the priest, he could not help but to think of offering her this amazing opportunity. 
"I think it is bittersweet," Fredericksen says of the opportunity. "It is sad to leave the first years that I finally know all the  students in the building.But it is kind of cool to think that I came in with this class and am leaving with them."
Fredericksen began her career in the East Chicago public school system before going to St. Casimir in Hammond. She stopped teaching elementary level to teach high schoolers, but is not making her transition back to elementary. 
"Most of my career has been in middle school. I would say the advantages to going back to my roots are a more close-knit family atmosphere. There is more collaboration between teachers, staff, and parents in those levels," Fredericksen says. 
Fredericksen has a close connection with several of the current Bishop Noll graduating seniors:  she was their teacher for three years at St. Casimir. "
It is interesting to note that for some of the class of 2021," she says. "I was also their teacher in 6th, 7th, and 8th grade at St. Casimir!" 
As a middle school teacher, Fredericksen taught social studies, but the pull to teach her Catholic faith was strong.
"I wanted to teach my faith. I wanted to teach students that our faith is NOT a boring bunch of rules and regulations, but it  is an ACTIVE and vibrant relationship with God," she says. "I wanted to teach them what I was never taught at their age: God loves you, has a purpose for you, you have value and worth, and that truly living out our Catholic faith is anything but boring!"
Fredericksen credits her experience at Bishop Noll for allowing her to teach her faith as well as using technology in the classroom. . 
"I learned so much about technology: how to implement it, use it in lessons, and as a teaching tool in general," she says."It completely changed how I teach and I know so much now then I ever did before I came to Noll. I plan to take all of that with me to SJE." 
As for her plans for transitioning to her new position, she is using the summer to take school administrator classes and getting to know her new staff. 
"My goal is to get to know my new SJE family: the staff, students, and parents. I am getting right to work as soon as I end school here at Noll," she says."I am fortunate to be able to work with the present principal of this school year for about a month. This will help the transition into my new leadership role and I expect the majority of my summer will be spent taking classes and preparing for the 2021-2022 school year."
Junior, Aaliyah Crawford, not only had Fredericksen as her freshman theology teacher but also worked with her in two of the clubs Fredericksen sponsored:  Women's Empowerment Club and student council. She saw Fredericksen as a prime example of a strong, female Catholic role model.
"Mrs. Fredericksen has always been a great role model for doing what you love," Crawford says."Teaching her faith is something she is very passionate about and instead of finding a job that pays better, she chose what she loves the most."
Although many freshmen may not appreciate her vigilance in teaching, like when they receive a call home about a faltering grade or when she works with them personally to ensure they turn in a project, all students that have had her feel her mark when they look back in hindsight.  
"She taught me to do what I love," Crawford says. "That no amount of money should ever get in the way of that. I enjoyed her podcasts. Though they were a pain at the time, they taught me really good life lessons. Without her, Freshman theology will never be the same. She did an amazing job at making us feel welcomed at BNI and I loved her class."
Although Fredericksen is leaving behind her career in the high school realm, she will always be a teacher at heart and offers all of her former students this last lesson.
"What I have always wanted my students to remember about my class is to never forget your purpose: to know, love, and serve God and others," she says. "I want them to never forget they have worth and value that come from God– they do not have to earn it and no one can take it away from them. 'Be who you were meant to be and set the world on fire,' -St. Catherine of Sienna."