Bishop Noll Admissions Board hosts first Open House with hopes for record-breaking enrollment in mind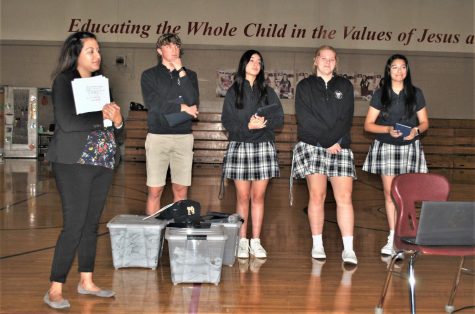 Coming off the honeymoon high of Bishop Noll's boost in enrollment for the 2021-2022 academic school year, students and teachers alike are left wondering "what's next?". This year, the new admissions director, Mrs. Carmen Ontiveros, plans to continue that streak, even possibly amounting to 200 freshmen for the class of 2027. 
With the first BNI open house of the year happening on Nov. 3 and feeder school visits already in the works, Ontiveros and student ambassadors have the plans to make next year's class another record-breaking number. 
"The Department of Admissions plans to attract more students to Bishop Noll by having events and programs where we can showcase the school and its hard working students," says Ontiveros. "The word is getting out about Bishop Noll. We are even getting phone calls from Chicago families and families who live further away."
Coming up on Nov. 3, the Bishop Noll Open House will be the first of many events to showcase the school to new students and their families. The Open House will provide a preview into the exciting life at BNI, and a glimpse at what it means to be a part of a recognized institution. Ontiveros, along with student ambassadors have been steadily preparing for this day, pulling out all the stops necessary, as it is one of the most vital nights in terms of drawing attention to possible enrollees. 
"We have prepared by gathering the marketing materials that we are going to distribute at the Open House. Our recognized band and sports programs are tools to market Bishop Noll as well," says Ontiveros. "We will also have our wonderful ambassador students who will give tours and interact with prospective families."
Over the last couple of weeks, student ambassadors have been traveling out to Catholic middle schools in the area to advertise Bishop Noll to anyone who might be interested. During the school visits, ambassadors discussed the endless opportunity and welcoming community that come with enrolling into BNI. 
"I loved the experience of going around and talking to other middle schoolers. I was really excited when some of them shared that they were hoping to come to Bishop Noll, too. It was fun and it was a good break from the school day.I think it's really important to advertise the school spirit more and the fun things we do here," says senior, Maria Emelia Quiroga. 
"I have no doubt in my mind that we will even have a waiting list!" Ontiveros said.