Indiana lawmakers look to fully approve new voucher for private schools and alternative education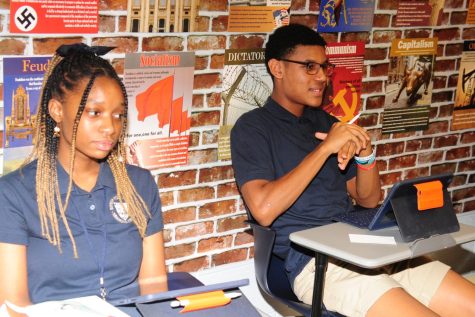 This year, Indiana lawmakers have been thinking about extending an opportunity to students in the state of Indiana through Senate Bill 305. 
Bill 305 would allow residents, regardless of income level, to use their own tax money appropriated for their public school district as an alternative non-public education option instead.This would mean that parents could use this money to educate their kids online, enroll them in a non-voucher private school, buy new technology for their kids use, etc., as long as it is approved by the state treasurer. 
Some, particularly those in the surrounding area of Bishop Noll, see this as a slightly more realistic opportunity for more people to get a private education. 
"Specifically concerning East Chicago, I think the enrollment would be welcomed as many parents are looking for smaller school environments for their students," says junior Soledad Castellanos. "Within recent years, vouchers have been welcomed for tuition costs as well as allowed students to afford opportunities that could not have been offered within the public school system. This new voucher would bring a lot more interest to private schools"
Castellanos believes this could mean more opportunities that normally wouldn't be offered in public schools, but she also recognizes some issues with how private schools currently function, specifically in terms of not having enough resources to help students. 
"One thing we've been preparing ourselves for is for growth," says Mrs. Pastrick. "The reality is that based on size we cannot exceed excessively, but we do intend on increasing our staff. Ideally we'd like an 18-1 ratio, but realistically we can't hit that right off that bat. We're hoping that in these coming years we'll add 1 more staff member to each department to service any growth." 
Although people have thought out the whole private school conversation, some have been acknowledging the issues that might come from the other option the bill offers: using the money to self-educate children strictly at home. 
"If you're being home-schooled, you're being taught solely in a sheltered environment," says senior Ulises Meza. "I think this would cause a lot of parents to get the idea that they could use their own made-up curriculum."
Currently, parents are not required to report homeschool enrollment in Indiana. Under the new voucher, any homeschooling tools up for purchase must be approved by the state treasurer along with a curriculum. 
Some Hoosiers' biggest concern is that Bill 305 could pull funding from the public schools in Indiana. The money the state would be using to upkeep public schools and send kids there, might deplenish if enrollment does, and this was upsetting to public school representatives. 
In addition, Mrs. Pastrick, along with representatives from other non-public schools in the district will be representing INPEA, The Indiana Non-Public Education Association, which will be the last step before legislators put the bill up for a vote. 
Mrs. Pastrick will be presenting to legislators with INPEA on April 14.