Bishop Noll's spring musical, "Little Shop of Horrors", hits the stage on April 14.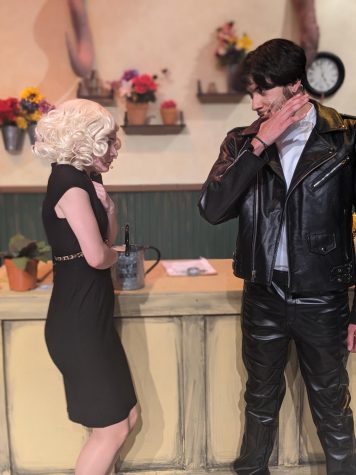 This Friday, Bishop Noll's theater department debuts the 2023 spring musical, "Little Shop of Horrors." 
          For the past few months, Bishop Noll has been anticipating the opening night of "Little Shop of Horrors" as performed by students at BNI. This musical will be the traditional second production put on by the department this school year. 
          The musical was created in 1982, and was then turned into a film in 1986 of the same name that is now known as an 80's cult classic. It follows a flower shop employee named Seymour who discovers an unusual human flesh and blood feeding plant in the shop after a total eclipse. It mainly follows Seymour as he goes through the motions of life while trying to quench and satisfy the thirst and hunger of the plant, which he dubs "Audrey II". 
           Although a lot of focus has been shone on the musical in the past few weeks leading up to opening night, the theater department has been diligently preparing for it for the better part of the school year. 
          "We've been working on this musical since mid-January, 6 days a week," says senior Brian Barragan, who is set to play the dentist on stage. 
          Despite the demanding hours put into the musical, the department is still more excited than anything to be putting on the show this weekend. 
          "We are EXTREMELY excited for the opening!," says Mrs. Kayla Jones, head of the theater department. "We just wanna share this hilarious love story with everyone!"
          The show will debut this Friday, April 14 at 7:30 pm, and will run with multiple shows through the weekend. 
Be sure to catch one by purchasing tickets online through this link: https://www.onthestage.tickets/show/bishop-noll-institute/63db0d290824610e58f15fc8/. 
          "Go see the show!!!," says Barragan.