Bishop Noll holds its first annual USHLI college fair event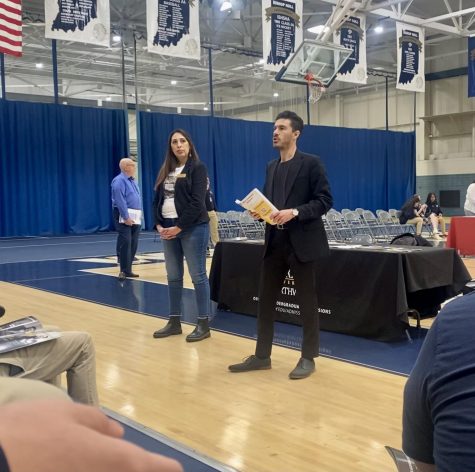 BNI hosted its first annual USHLI event to reach out and provide resources for all students. 
On May 3, BNI hosted its first annual USHLI event, otherwise known as the United States Hispanic Leader Institute event, hosted by the Hispanic Student Union. This event ran during the afternoon of the school day so that all BNI students were able to attend. 
The union organized an agenda of presentations by guest keynote speakers in the auditorium and a college fair in the field house for the event. Students followed a modified schedule in order to accommodate these activities. 
The HSU has been working on organizing this event for quite some time now under the guidance of Ms. Mayra Quiroz, head of the union and guidance counselor. 
"Ever since we attended the USHLI Leadership Conference a few months ago,"Ms. Quiroz stated to us that she really wanted to have something similar at BNI and the rest is history," said senior Hispanic Student Union member Sophia Mendez.
Mendez, who is also the founder of the HSU, had been steadily preparing to make this event worthwhile, as she says it's a resource she wishes she would have been given access to when she was an underclassman. 
"I'm really excited for these students to experience this event. I wished I would've had this opportunity my freshman year," says Mendez. "I hope this event happens again at BNI in years to come." 
Mendez hopes that all students use this as a way to get your foot in the door when it comes to college and new experiences. 
The event ran from 1:00-3:00. 
"Keep an open mind and ear," says Mendez. "This is an opportunity to learn something about yourself!"