Four freshman add depth to already solid boys varsity soccer roster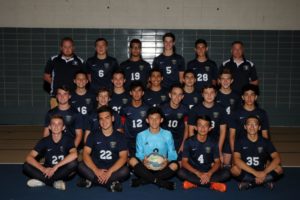 Bishop Noll's boys varsity team welcomes four talented freshman players to help grasp the goal of reaching their full potential and making it far during post-season. All four freshmen see quality playing time every game, making it one of the soccer team's youngest and most talented varsity rosters in several years.
Jacob Wichlinski, freshman striker for Nolls soccer team, expects a lot this year.
"I am looking forward to sectionals and playing Griffith. It will be a lot of fun and I hope we can win sectionals and go even further," said Wichlinski.
Wichlinski has been playing CYO soccer before coming to Noll. He has been enjoying his seasons at Noll being a regular starter and netting a few goals of his own.
"I felt amazing since it was a night game and the atmosphere was amazing. It was a dream come true and I wish I could experience it again," said Wichlinski after his first high school game.
Jaime Hernandez, freshman midfielder, is more than confident in this year's soccer team.
"My expectation for this season is to win sectionals and hopefully be a state runner up," said Hernandez.
He depends on his teammates and God to get them through games and to continue to push them.
"Strength is a big role in this sport. I always pray for me and my team so we can have a good game and so none of us would get hurt. I'm looking forward to a great season with great players," he said.
Hernandez has been playing soccer his whole life playing at his club team, Roma FC. He looks to improve his game everyday. "My Bishop Noll coaches amazing coaches. I thank him for giving me the opportunity to play in varsity and helping me learn more and more about this beautiful sport," Hernandez said.
Freshman Noah Reid, following in his older brother Luke's footsteps, has dedicated a lot of his time and energy into soccer. He has been playing club soccer at Indiana Elite FC.
"I played soccer because of my love for the game and it has a very special meaning to me," said Reid.
The transition to playing on a higher level in high school was somewhat easy for Reid. Playing at a high level and being pushed his whole life has prepared him for the intensity of playing on a varsity level high school team.
Reid has helped the Bishop Noll throughout the season with his defensive and attacking skills. As Reid is taking on his first season, he expects to have a good season and come together as a family with the team.  
Bruno Zamora, center defensive mid, has been playing soccer since he was four years old. He plays club soccer at Indiana Elite FC.  Looking up to the upperclassmen on the team for guidance has helped adjust him into the team. "The transition to high school was not very hard but was a different experience," said Zamora.
  Zamora has help the team defensively and has also helped create many chances for the team. He is really confident in the team this year. "I wanted to go far with the team we have this year," said Zamora.
Quinn Cloghessy, assistant varsity coach has a lot of faith in this season.
"I'm expecting a deep run in the postseason. We have a favorable sectional. In no way, shape, or form am I saying it's going to be easy. I am confident in our team's ability to take us far," said Cloghessy.
He explains that the team as a whole continues to progress and push each other.
"Bruno, Jake, Jaime, and Noah have been an absolute blessing. There are freshman who make the varsity team but don't necessarily make a huge impact. These four freshmen have made that huge impact. I can't wait to see how they'll improve over the next four years," said Cloghessy.