Taking care of business
After falling short at semi-state last season, boys soccer team wins first State championship in school history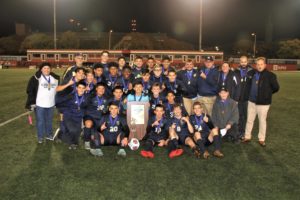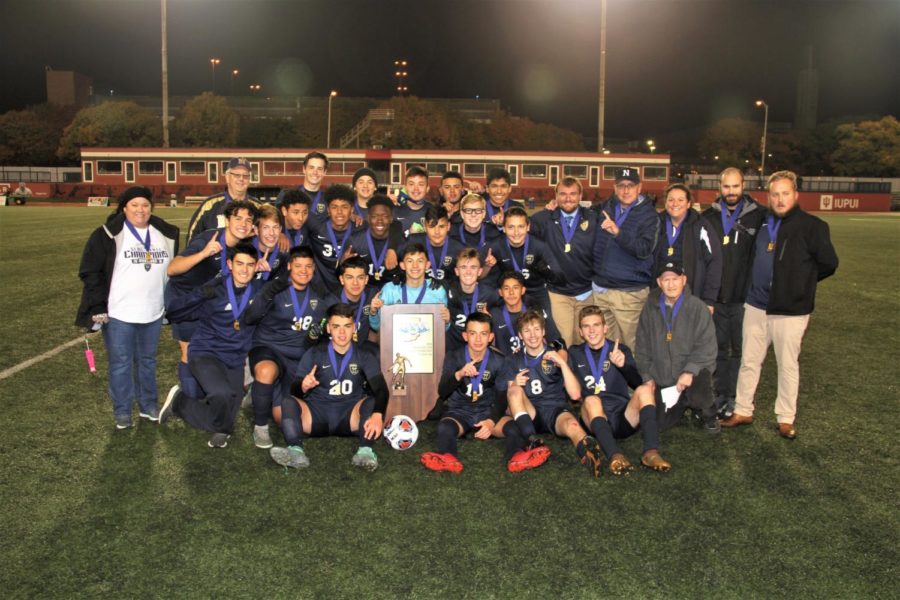 This State title was 4+ years in the making. Noll's boys soccer program has been one of the stronger ones in the area for years,
but the pieces just weren't ever all there to bring home a medal. Here's what went into this year's team to finally make the
dream a reality.
BONDING WITH BROTHERS
Bishop Noll's soccer team proves that individual success comes from team success. Although the talent of individual players strengthened the team, the team's teamwork provided the backbone for success.
Their bonding was found in the friendships the players created and have: the hangouts, get togethers and gatherings before games; and the understanding of one another's talent and abilities.
They aren't just teammates; they consider each other
brothers.
"The entire team is composed of brothers. Every young man is friends with and can talk to and laugh with every other teammate. This connection helped us give good criticism throughout the season and also allowed us to never really take our frustrations out on one another,"said senior striker Jake Fuehrmeyer when describing the team's bond and understanding of one another.
There was a drive to keep each other going, support one another, and never let each other down. The ultimate goal was to win for each other and they knew they could accomplish it together.
Sophomore midfielder Bruno Zamora explains this drive at the Championship game when he became hurt. "I was in pain but the adrenaline of the possibility of winning state championship with
my brothers is what kept me going."
This brotherly friendship and support resulted in victory.
"The team's bond was a huge factor to the State title. We were all very good friends … We have great friendships, and that was an important factor to us winning state," said sophomore forward Jake Wichlinski.
2017 semi-state loss
Last year, the soccer team's journey was cut short when they lost at semistate to Fort Wayne Concordia in overtime. Although saddened by the loss after an outstanding season, the desire to get retribution fueled them to put in the time, work and effort this season.
Sophomore Bruno Zamora, who scored Noll's sole goal against Cardinal Ritter at the State championship game, said that he team "got a taste" of what a State championship would feel like last year. The midfielder also said that they worked harder throughout the summer and were determined to go above and beyond no matter how hard the obstacles were to get there.
Goalkeeper Salazar knew the team wanted to win it for the seniors last year–Sergio Marquez and Alex Romo–who didn't get a chance to see the State game.
"We finally did it, and what a better time," Salazar said. "Nevertheless, the soccer program has been at a constant rise throughout my four years, there's nothing but success coming for next year's team.
Coach Cloghessy agreed, saying, "The boys believed they could do this since last year. Losing semi-state really galvanized this group, and pushed them to the edge. The talent h a s been there for a while, but going as far as the did last year, really helped them realized that winning state is truly obtainable."
Coaching Staff
Although the players were the ones taking the shots this season, credit must be given to those behind the scenes, the coaching staff that built this program to what it became. Previous head coach Armando Garza helped build the boys soccer program to be what many consider one of the best programs in the area, securing four sectional championships during his tenure. When his former player and protege, Quinn Cloghessy, took over the program this year after Garza stepped down to coach girls soccer, he brought with him fresh fuel for the championship to add to Garza's tutelage.
"[Garza] took the program as far as he could, and when he felt comfortable enough to hand it off to someone he trusted, I was privileged enough to take on said role," Cloghessy said, mentioning that when he was a player, his team didn't really have high hopes.    However, he knew the program had potential even as a player. "Now as a coach, I am going to get this program to the heights I know it's capable of reaching."
The boys felt the rapport between their coaching staff and their players was strong.
"Our coach was very important to our victory. We all wanted to win it for him, and I'm glad we could do it," said Jake Wichlinksi.
Cloghessy agreed, saying that the coaching staff was driven and always humble.
"I love every player on this team and I know it was reciprocal….There really was a good vibe this whole season. Nobody was at anyone's throat."
TALENTED YOUNGSTERS
If you were to look on the boys varsity roster, you'd think that a State team would be mostly upperclassmen, but so much of the talent of this team came from the powerful sophomores and even a few freshmen.
"The sophomores really gave our program a huge young, athletic and talented boost that gave us a different style of play that led to more wins," said Fuehrmeyer.
Midfielder sophomores Noah Reid, Jaime Hernandez and Bruno Zamora and forward Jake Wichlinski put in plenty of minutes on the field this post season to help rack in the goals needed for the State run. And throughout the season, they had to overcome their own underclassmen jitters and stress at school.
"Some personal issues that I had to overcome was keeping my grades up, dealing with the pressure of scoring goals, and staying focused on the games instead of all of the distractions that were around me," Wichlinski said.
Although the team had ten seniors, they will have 13 returning players that, according to Cloghessy, have "invaluable experience of competing at this level".
"I fully expect to make another run in the state tournament. If the boys remain confident in their abilities, and play together like they did all season, then they will experience similar success," he said.
Wichlinski is looking forward to another State run.
"I'm looking forward to our incoming freshman," he said. "I know they will be motivated and will want to win another State title. If we stay focused on next season and keep the same mentality, we have a very good chance at making it back to the state championship."
HUMILITY AND LEADERSHIP
Good leadership is an essential part of every team, and although this year's State championship team was exceptionally young, the seniors still played their part. The captain and co-captain of this year's team were seniors, Daniel Salazar and Jake Fuehrmeyer.    According to Fuehrmeyer, the win was not solely based on their leadership, but it was also a result of the talent and humility of the other teammates.
"Talented guys made talented plays to prevent goals and to score goals. We took our chances we had and capitalized. That is our best skill," he said.
Salazar told his teammates to never let these wins get to their heads.
"I had to try my best to help them shake those nerves off. I think once we got in our groove, everything was just going in our favor," he said.
The humble nature of the boys on the team seemed to resonate to everyone. Both captains said it was never just one person taking all of the credit for any of their victories.
"We stayed focused and humble, and that seemed to be a huge factor this season," said coach Quinn Cloghessy.