Three talented freshmen bring talent to Lady Warrior soccer team
The Bishop Noll girls varsity soccer team took on Griffith this past Saturday at Griffith. It was a hard fought battle but Griffith managed to come out on top with a score of 3-2 in penalty kicks. Freshman Frida Gonzalez had saves for the Warriors but sophomore Aracely Ramirez and junior Abby Heintz's goals weren't enough to seal the win. 
   Despite the loss, three strong freshmen players are stepping up to show that the Lady Warriors are once again a force to be reckoned with in the Greater South Shore Conference.
   "I am glad that we have such a strong freshman class this year because I could see them go a long way throughout their four years. They have a bright future and could definitely get their names out this year too," says senior Salome Hernandez. 
   The young talent brings speed for the Lady Warriors. Freshman players such as Xiomara Santana and Gabriella Magallon are two names to look out for this year. Freshman goalkeeper Frida Gonzalez had 10 saves against Griffith.  
   Although defender is her primary position, Gonzalez started as goalkeeper for the Lady Warriors and stepped out of her comfort zone to take on the job. "For my coaches and teammates putting faith in me for this position m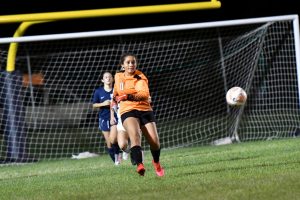 eans a lot," says Gonzalez.