2020 alum Fehr succeeds on field at Benedictine.
Big Country in a small college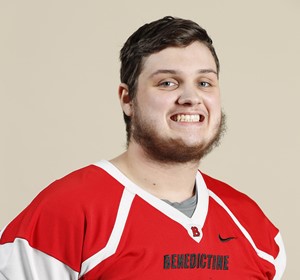 Every high school player dreams of playing for a college when they join a high school sport, Isaac Fehr has done exactly that. Not playing all four years in high school may make a goal like this seem out of reach but Isaac has done it non then less. Playing college football and balancing a successful school career and social life is a challenge but Isaac embraced it as he started his college career. 
  Isaac Fehr, also known as "Big country" by some on his former high school football team, is attending Benedictine University for both football to play as an offensive lineman standing at the height six for and seven inches, and to further his education and is just closing out his first year at college. 
"What motivated me to continue playing football is my love for the game and the experience that you get when playing for a sports team," said the 2020 Bishop Noll graduate.
  Isaac has fond memories of playing football in highschool with his favorite memories being the team dinners and the bus rides before the games. Isaac also mentioned that there was a difference in the way that football was played in college and in high school. 
"It definitely was a game changer at first playing next level, but after a couple of practices and games I got used to the difference," he said.
 Being surrounded by his teammates is also a factor in making the transition from high school to college a little easier.
      Isaac said that as his college career progresses his goals are to "Definitely to play football and to focus on school and lifting." 
 Isaac is currently majoring in business and economics but isn't exactly sure of what to do after college. 
"But I know I want to work somewhere in real estate or something similar," he said in response to potential future careers.
  For the success of an after college career along with a successful athletic career a balance has to be struck. 
"The way I balance school and athletics at the moment is by going to team study tables, and always getting my assignments done a little beforehand to give myself some leeway," he said.
 With the stress of both education and sports, Isaac enjoys the free time he does get.
 "Things I do in my free time are go for a walk, go to car meets or work on my car, play video games, and or meditate.
 As Isaac is nearing the end of his freshman year of college his biggest piece of advice to students hoping on advancing their career in sports is to "Stay focused and always try your best."