Noll donates 4,538 items of food to St. Joseph's soup kitchen for Thanksgiving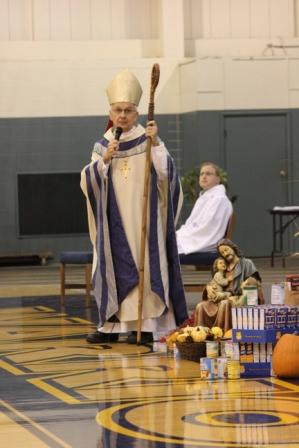 On Tuesday, Nov. 21, the Bishop Noll students celebrated Thanksgiving Mass with Bishop Dale Melczek and presented him with the results of their Thanksgiving food drive. The Noll community donated 4,538 food items to the soup kitchen at St. Joseph in downtown Hammond.
"Thank you for giving this Thanksgiving," said Natalie Prkic, food drive sponsor and Bishop Noll business teacher. "Many families will benefit this Thanksgiving season because of your generous hearts."
Students and faculty delivered the food to St. Joseph's soup kitchen Monday afternoon, surprising the workers at the kitchen with the large amount of food.
"One of the volunteers was yelling 'We love Bishop Noll'," Skurka told the student body after Mass.
Student council president Jorge Gomez and Skurka, senior class president, also presented the Bishop with a check after Mass to be donated to his favorite charity.
Bishop Noll originally had a goal to donate 1,500 items to the soup kitchen, but ended up tripling their goal. A free jeans day to the advisory that brought in the most food helped motivate students to bring in items, according to Prkic. Ms. Lydia Skurka and her advisory of seniors came in first place with 607 items.