Freshman varsity basketball player Liz Buksa floats between music, athletics
The band roars with music, a clarinet  plays clearly. The scoreboard buzzes, the crowds cheer. Freshmen Liz Buksa steps into the classroom, her premier Varsity athletic skills present to all who know her, but she surprises everyone with her skills in both academics as well as extracurriculars, including band.
     "Motivation is a big key in playing these sports, and every time I get on the court, I am building more and more. The most difficult thing is staying up late trying to finish all my homework and studying for tests, and waking up super early".
     Despite all this pressure, Buksa still maintains a happy, forward-thinking attitude. Basketball and Volleyball teammate, sophomore Abigail Damacio added, "I think Liz is a really awesome teammate. She is a very positive person. Her attitude is her best asset because she just does whatever she is told without complaint and always is positive, even when there's criticism".
     Buksa has been playing both volleyball and basketball for five years, and it is through this commitment she has set herself high goals. Buksa's honors English teacher and basketball coach, Ms. Rose Mullaney can attest to this.
     "One of Liz's greatest strengths is her work ethic," Mullaney says. "Liz works hard and is committed to doing her best both in the classroom and on the court. Whenever there is a break between school and basketball, Liz can be seen studying in the cafeteria".
     Buksa says her dedication to sports stemmed from watching college and professional athletes in both sports play competitively. Buksa knew then that she had found her calling in something that she found interesting.
     "Starting in fifth grade, I watched college/professional volleyball and basketball, and I was inspired to be "just like" those athletes.  My goal is to receive a scholarship for college in volleyball".
     Buksa, while she did manage to make varsity her freshman year, has a lot more to offer to the basketball team this season. Buksa has been dubbed one of the most competitive players on the the team.
     Mullaney added, "Liz works really hard to improve her skills as a post player. Her height and reflexes allow her to rip down rebounds around the basket. Liz scored seven big points and helped to hold a 6'3″ post to just five points to help us defeat our rival, Andrean".
     While Buksa manages varsity athletics and honors academics, she is also involved in the band. Playing the clarinet, she has played it for five years. According to Buksa, she wanted to play it because she seen her cousin play the instrument.
Buksa responds to pressure in a very positive way, much more positive than most would expect, as Damacio elaborates on this. "Liz pushes herself. Any student athlete already would have the pressure to balance school and sports, and to have honors and maintain good grades is even harder, plus the fact that she is on band too. But, I do believe she pushes herself even more than most do, and I think that what makes her such a great asset to have"
About the Writer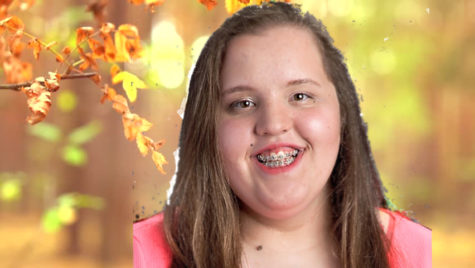 Caitlyn Grcich, Editor-in-Chief
Caitlyn is a senior at Bishop Noll and a third-year staff member for The JourNoll. She is the JourNoll's Editor-in-Chief. She enjoys writing feature stories...