A new year, a new role
Jessica Omelanczuk takes on new role as Assistant Principal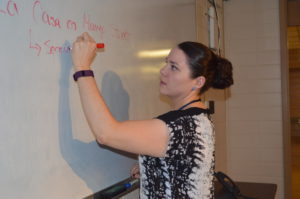 On a hot day in late June, students received an email as a farewell from former Dean of Students Matthew Chico. Shortly thereafter, word spread that a well-liked and popular teacher was taking on the new role of Assistant Principal. People made posts on twitter and snapchat, everyone nervous for what would come.
      In July, it was revealed to Bishop Noll families that Ms. Jessica Omelanczuk was now assistant principal. The decision, made by Principal Lorenza Jara-Pastrick, was made to move Bishop Noll forward, continually leading by the theme of "Lead Me, Lord".
      According to Pastrick, while the role of principal has changed over the decades, the change was made to better suit the instructional aspect of Bishop Noll's administration, and the guidance of a current teacher was needed.
      "I needed some help on the instructional aspect.  Ms. O is also able to assist the counseling department in the assessment front, lightening our counsling load so our counselors have more time to meet with students to prepare them for college".
      For Pastrick, the position of a Dean of Students was not needed. However, the role that a Dean of Students would play in student disciple is being handled by both Pastrick and Omelanczuk, with Omelanczuk handling detentions and Pastrick handling other, more serious offenses.
      For students like Senior Megan Sullivan, the adjustment from Dean to Assistant Principal was one that wasn't too much different, but had a lot more added benefits.
      "I have noticed that so far policies have been much stricter this year. As far as how things have changed, I don't notice too much of a difference right now, but it is only the beginning of the year".
      While the change did come as a surprise for students, Omelanczuk was ready for the task at hand. Omelanczuk had been thinking about making the change from teacher to administrator over the past year.
      "I love teaching but I felt I was ready to try something new and challenging," she said.
      Omelanczuk, who was already on the path to accreditation, is continuing her pathway to finish her administrator's licensing at Indiana State University in Terre Haute. She took three classes over the summer and is commuting to Terre Haute when she needs to..
      "I am working on my internship this year and have to go down to Indiana State University once a month for different seminars throughout the school year," she said.
      Despite the continual rush of activities, whether it be her teaching her Dual Credit Spanish 3 and 4 classes to her being the one to handle student disciple, she maintains her upbeat demeanor.
      "It is somewhat challenging to continue to teach 2 classes but I honestly love being in the classroom and it is my constant in my day.  It can be stressful to focus on one thing at a time when there are 100 other things on my mind but so far so good", while adding, "My favorite part about being Assistant Principal is that everyday is different.  I am learning new things everyday and it's both exciting and overwhelming".