SPOTLIGHT: Senior Reyna Reyes a leader on the dance team, in the classroom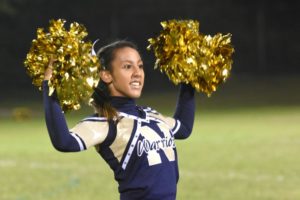 Senior dance team captain gives full determination to both athletics and school work. Senior year is important because it's one's last year of high school. Reyna Reyes, senior at Bishop Noll Institute, has already begun her senior year on the right note. Taking on her second year as a dance team captain, Reyes is also actively involved in honors and dual credit classes that challenge her. There's a struggle to find the right balance between school and sports and even Reyes says that she finds herself overwhelmed, not so much her being unable to handle it but it feels as though everything happens at once.
"I usually just have to breathe and kind of try and figure out how to handle everything and find the time to do them. Often times I have to give up social events and social activities to make time for school and sports," says Reyes.
It seems as though the go-to alternative is to put of a social life to focus on more important things or just being able to better manage your time and energy. Reyes even suggested to prioritize one's life or even put the phone down, just to give one's self a break or relief of its eternal grasp.
A sense of support is beneficial to the prosperity of one's life and accomplishments. Reyes mentioned that she receives full support in her participation in multiple sports and extracurricular activities.
"I think my success comes from my motivation from family and friends, but in a way on my own too. It's one thing to receive support from family but it's another one to implement it into your life," Reyes says when asked where she felt her success came from. Reyes has made her own decisions and her support is crucial to her own drive to further push herself.
As a senior and two-time captain, dance has been an impactful part of Reyes's life. Beginning her fourth year on the varsity team, Reyes has had prior experience before coming into high school and trying out for the team her freshman year. With a total of 8-9 years of dance behind her since she was 3, it's no shock Reyes found herself in such a high role as a senior on the dance team. According to Reyes, senior, dance is a major part of her high school experience, despite the few years she went without dancing, prior to coming into high school. At 17, Reyes has accumulated a total of 13 years of dance, but still finds a few setbacks to overcome for the benefit of herself.
"A setback for me is probably the lack of confidence in myself. I find myself doubting and comparing myself to others, but I know that won't helps better myself physically or mentally. So I've come to appreciate myself as an individual and continue to strive to be the best of MY own ability," Reyes said.
Setbacks come and go but nothing can hold one back when there is a drive to become a better version of oneself, to love who they are.