Video game club: a place for students to "geek out"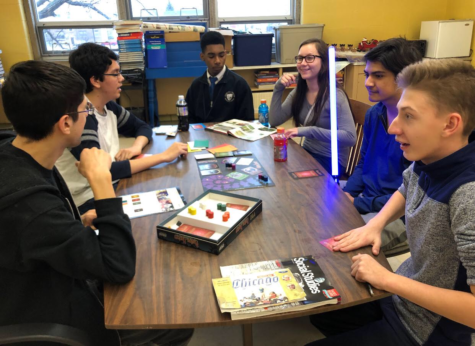 Since the age of five, video games have been a large part of Luz Mendoza's life. The sophomore recalls watching her father play games in front of her such as Gears of War and Terminator Salvation. The first game they had played together was called Aegis Wings, which they had beat together. This was the beginning of her passion for video games. School work weighs down on most students throughout the year causing them to be overwhelmed and stressed quite often, but Luz says, "(playing for her is) like a hide away from stress."
  Luz's love for video games sparked an idea in her mind last year. What could she do to gather not only her friends but other students that share the same love for gaming as she does? Her solution was to form a video game club. After speaking to Bishop Noll principal Mrs. Lorenza Pastrick and finding a willing teacher to sponsor the club, she was able to form an after-school club that allows people to gather together and be themselves while doing what they love the most: gaming.
 Currently, the video game club has nine members, including Mendoza. Members of the club play games on consoles that are brought in by willing members and when they're not gaming at home.
  "They do their own thing or just hang out," Mendoza says.
   On any given Friday afternoon, one might walk into room 208 to find a PlayStation 2, an Xbox, or a Nintendo Switch being used among a group of students. These meetings usually last from about 3 to 4:30 or later depending on how long the members want to play that day. Mendoza's favorite games are Little Nightmares, Inside, Undertale, Bendy and the Ink Machine, and Hollow Knight–all of which are creative games that involve decision making and thinking.    
  Mendoza elaborated on Hollow Knight saying, "it's an indie game masterpiece! The exploration and discovery of new areas! I'm always hungry for new enemies and collecting maps to find my quests."
 Mr. Brian Lambie, the club's sponsor says, "I think it's a really fun, relaxed atmosphere. It feels like a group of friends hanging out and there's no pressure to play if you don't want to."
  Mendoza said that the club has met her expectations over the year.
  "[The club] started off with watching gameplay or just discussing games together; now we have the ability to actually play some games," she says.
 Lambie's hope for the following year is "that we can continue to grow and keep coming up with new and fun things for everyone to try."
 Mendoza's hope for the following year is "(to) have more people come and join the squad."
  Also, before graduating, she is preparing to choose another BNI student to care for the club. "It's just a place where people can geek out."