Valedictorian: Francesco Komyatte
Future rooted in health field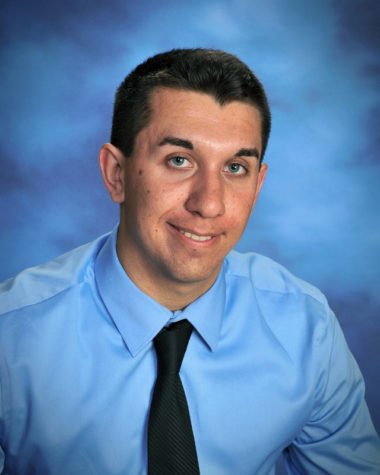 Valedictorian Francesco Komyatte, better known by his peers as Franco, has always seen the importance of hard work. Maintaining a 4.0 unweighted (4.56 weighted) GPA, managing sports, while simultaneously aiding young children have contributed to his daily routine throughout high school. While high grades have always been important to him, he bases his success towards a future that helps others.
      Komyatte explains his journey through high school as successful and explains the important role that school work played throughout his four years. Although he practiced extensive involvement in school becoming valedictorian, he never set becoming valedictorian as a priority.
      "I've always just sort seen the significance of my education, which resulted in me putting forth a ton of effort to consistently get good grades. Because of that mentality, the whole valedictorian things came to fruition, but being valedictorian hasn't necessarily been a long-term goal I've been working towards," Komyatte said.
      Komyatte's high school career consisted of being involved a focus on working hard towards academics, but also working hard towards other activities. He wanted to experience high school years having fun. Franco recalls enjoying his high school experience through sports.
     Komyatte explains his involvement in sports through the highlight of his four years at Noll. To him, this highlight consists of a three in one, consecutive event, he experienced through boys varsity tennis.
     "I'd definitely say that winning tennis sectionals three times in a row was pretty cool. Honestly, the entire tennis experience was nothing but a pleasure. The coaches and the many teammates I've had were absolutely phenomenal. There was never a dull moment," he said in describing his 3-time sectional championship.
     Excelling academically and through sports wasn't the primary focus for Komayette, though. There was also a need to use his abilities to help others and set an example for younger students in the future, while helping them succeed. A member of Our Lady of Grace in Highland, Franco spent his weekends at his church teaching Sunday school. He saw the importance of teaching others about God, service, and hard work and feeling like he was making a difference in society.
     "Helping teach Sunday school has to be the most meaningful service I've ever done. I've done it for seven years. It's crazy to see how much of a positive impact you can have on children as they progress into adulthood," he said.
     Franco's hard work and determination lead him to become admitted into the University of Evansville, where he plans will continue to work hard towards a future of helping others.  
     "I'm in the direct admittance physical therapy program at the University of Evansville. I'd like to be a traveling physical therapist once I graduate from grad school, traveling for a few months at a time from city to city helping out patients from all regions and walks of life," he said.
     While Komayette sets in example in academic and helping others, his family set the foundation for a career that helps others. Science runs in his family, both of his siblings, his mom, and him share a love for science that inspired a career that involved anatomy and biology. At the same time, his mom, an eye doctor, set a foundation for him to help others medially for better performance.
     As a traveling physical therapist, Komyatte will become employed by a traveling healthcare agency. He will take physical therapy roles in different settings through different cities around the nation. Komyatte explains that therapists in this position meet extreme demand at the clinics nationwide.  
     Komyatte plan to become a traveling physical therapist revolves around helping others.
    "I chose to be a physical therapist for a number of reasons. The biggest one is that I feel like a ton of professionals consist of manipulating people into giving you their money unnecessarily, while physical therapy is a profession that actually does some good work for the world without any of the swindling of other professions. I also just love helping people, and physical therapy is essentially the career of helping out others. Science has always been pretty interesting to me."