Campus Ministry introduces virtual Masses this Tuesday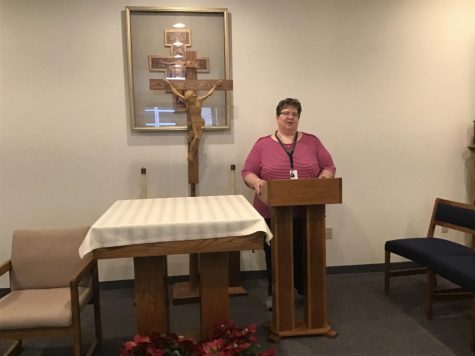 Creativity sparks as Bishop Noll plans to host their first virtual Mass of 2020,  celebrating Founders Day on September 15, all while following CDC guidelines. 
    Bishop Noll's first Mass of the 2020-2021 school year will take place on Tuesday, Sept. 15. In order to follow CDC guidelines in caution of COVID-19, Noll will begin to conduct Masses virtually in an effort to avoid large groupings of students sitting next to each other within the field house. 
    Campus Ministry Leader, Ms. Stacia Bolakowski, created a plan for the year which will allow all students to still celebrate a Mass in person at least once. For Tuesday's Mass, the Senior class of 104 students will be seated in the bleachers and on the gym floor of the field house, while the rest of the school will watch a YouTube livestream in their 2nd period classrooms. Bolakowski mentioned the current plan, which is to have one Mass per academic quarter, which can change due to the current pandemic and other factors within the school. 
    "It was pretty much a given due to the current protocols because of the pandemic that all our school masses would be live streamed… Mrs. Pastrick, Father Kevin and I have been discussing things since early July," says Bolakowski. 
    With regards to the majority of the student body being in their classrooms during Mass, Bolakowski said that the biggest obstacle will be distributing communion. " We will overcome obstacles with patience, compassion and God's help!" Says Bolakowski. As opposed to being together in one space, this could be a new way to try to be more open with our faith, she added, "Live streaming does allow. Us to live out our faith in a public, thinking 'out-of-the-box' way."
    "It will be weird to view it from the screen, but I think it is awesome that we have the technology to do it!" Says Mary Buksa, a Campus Ministry Intern. "There were so many details that went into revamping Mass and I think this was definitely the best option. It's also nice that each grade will have their turn to be present in the actual Mass." she adds.
 As a school, Bishop Noll will have the opportunity to try this new way of Mass, all while practicing social distancing. 
"We need you to participate in the best way possible!" Bolakowski said.