BNI students look forward to a promising summer
With festivals resuming in 2021, students are already making plans to ensure that they make this summer one to remember.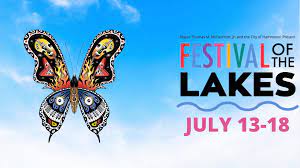 With the weather getting warmer, increasing accessibility to the vaccine, and the fatigue over COVID, BNI students are ready to enjoy their summer. 
"I'm ready to have fun this summer! I can't wait to get these finals over with!" exclaims junior Kayla Arambula. "I was so upset when Festival of the Lakes and Pierogi Fest were canceled last year because of COVID. This summer I'm fully vaccinated and ready to make memories with my friends and family." 
Fortunately this year, the Region's renowned festivals are making a comeback. After taking a year off due to the pandemic, the festivals will be held in the summer of 2021. With the population continuing to get vaccinated, the CDC lifting certain restrictions, ans being able to safely distance at outdoor activities, these festivals are making sure to keep everyone safe for the virus 
Just this week, Lollapalooza has announced that their summer music festival will take place. Tickets went on sale on May 19 and the event will be held at Grant Park from July 19 through August 1, 2021. If you are not fully vaccinated, you must have a negative COVID test 24 hours prior to entering the event. 
Junior Emma Thrasher has also been fully vaccinated and is ready to attend the festivals this summer. She plans on attending Pierogi Fest and Festival of the Lakes. Last year, she missed being able to create new memories with her friends. This year, she is excited to go with a group of friends to enjoy the food, music, and rides. 
"My favorite memory from Festival of the Lakes is one time I went on the rocket ride with my friend and they forgot to check if our seat belts were clicked in correctly," says Thrasher. "My friend and I thought we were going to fall out the whole ride, but it was so fun and we laughed about it for the rest of the day." 
Festival of the Lakes will take place from July 13 to 18. It will be held at Wolf Lake Memorial Park in Hammond, Indiana. There will be bands every night and many different events: a hot rod and bike show, firework show, and fishing derby. Since the event is a couple months away, they have not released their safety COVID guidelines. With the help of vaccinations to stop the spread of the disease, it's likely that vaccinated individuals will not have to wear masks. 
Junior Diego Ruiz plans on attending Taste of Chicago this summer. He says it's a family tradition to go, but last year they could not because of the pandemic. He says one of the most memorable moments was when his brother got lost in the crowds and he and his mom had to look everywhere to try and find him. 
"I'm looking forward to these events because I just want to enjoy time with family and friends again," says Ruiz. "I want to laugh, feel happy, and taste good food. School has been so stressful this year and I'm looking forward to spending quality time with my friends and family. I miss the banter with my loved ones, dancing to music, and trying new foods. The little things matter so much to me because it doesn't happen so often now." 
Junior Octavio Bautista is also excited to attend Festival of the Lakes. He says he usually attends the festival with friends from school and reunites with other friends from his childhood. 
"I'm looking forward to this event because this is the one of the first occasions when I can go out with my friends in public, says Bautista. "I will be able to reunite with some of my old friends. This also gives me the opportunity to meet new people and not be afraid of contracting the virus."