The hope of New Years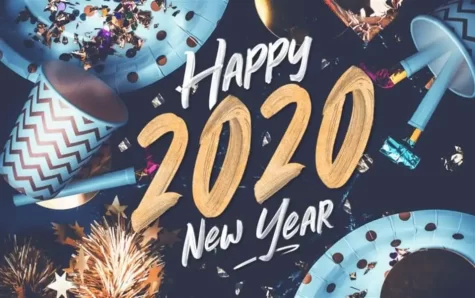 The New Year brings a fresh start, resolutions, and new changes to everyone including teachers and students.
New Year's Day is celebrated in many different ways. 
Teachers, Ms. Rebecca Dostanti, science teacher, and Mr. John Gleason, social studies teacher, say that they celebrate New Year's Day by relaxing.
Dostanti says, "I just celebrate the New Year by relaxing." 
Gleason says, "I celebrate the New Year by feeling rested & like we've wiped the slate clean." 
While some students use the holiday to celebrate with family and traditions, others relax independently.
Senior Melissa Carlos says, "My favorite part of New Year's Day would have to be spending it with my family as we all anxiously await the new year."
Senior Ethan Lopez says, "My favorite part of New Year's Day is relaxing all day and binge watching Netflix tv series or watching movies."
The New Year allows hope in what the future will bring into everyone's lives. With all the distress of the pandemic, the hope of the new year could be just what people need.
Lopez says, "I hope the new year will bring new friends, opportunities for me to make my own money, life changing experiences (positive ones of course), and normalcy."
Dostanti says that she is hoping for normalcy to be granted this year instead of more stress from the pandemic.
With the hope of what this new year will bring, many also take steps to bring good things into the year through their resolutions.
Carlos says, "My New Year's resolution is to manage my time better and to get closer to God."
Lopez says, "My New Year's resolution to create a better life for myself, establish a source of income in any way, and to put my health first above everything else."
Gleason says his resolution is, "Learning to be a better cook."
We find that to succeed in the New Year with our resolution that there are some things we need to give up. 
Carlos says, "I would definitely need to give up some of my time," to achieve her goal.
Although last year and the years before are gone, both students and teachers hold onto the precious memories they have made at BNI.  
Lopez says, "My favorite Memory at Bishop Noll from 2021 was being a part of the homecoming court." 
Memories from even years ago can still bring joy and laughter to many.  
Carlos says, "My favorite Memory at Bishop Noll would have to be the pep rally that took place my sophomore year when students were playing tug of war and the rope broke." 
Bishop Noll students even created memories through arts. 
Gleason says, "2021 at Noll was a blast. So this is tough… I'll say seeing She Kills Monsters," was his favorite memory at Noll. 
Bishop Noll also hosted festivities that helped students feel a sense of normalcy through the hardships of the pandemic. 
"The Centennial celebration was super fun to go to and one of the first times during the pandemic that felt more "normal" to me," says Dostanti, "Since I have been a student, coach, and teacher at Bishop Noll, being able to celebrate 100 year was extra special for me!"
The New Year gives many a chance at a fresh start to become the best version of themselves and helps to remember to let go of old habits that keep many from growing into who they would like to be.
Dostanti says, "I feel like any time of year is a good time to make a change or stick with a positive habit so I don't wait until the new year."