Senior Ethan Lopez goes to bowling regionals for the first time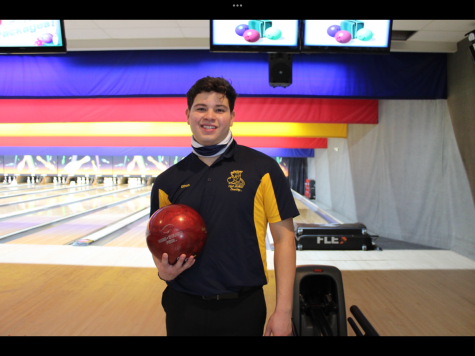 Ethan Lopez, a senior at Bishop Noll placed 6th amongst the 10 finalists at the Greater Lake County bowling tournament last week. He competed at regionals on January 15th at 9am at City Lanes, getting a score of 166,132,143 for a total of 441.
Lopez has been bowling since his junior year of highschool. He is the first person in two years to reach regionals.
"This is not the first time a BNI student has gone to regionals,"said bowling coach Ameer Lawrence.,  "We had three Lady Warriors advance to regionals two years ago, but Ethan is the first male bowler to advance to regionals in three years."
Lopez described his years of bowling at Bishop Noll as something to remember.
"I never thought it would be something I find high interest in but I did and I enjoy playing it," he said."I find bowling as a place where I can go and just have fun playing but also take it very competitively."
The score Lopez needs to move on to semi state is 550 series or better. He has bowled this score before.
Coach Lawrence explains how they plan on preparing for regionals saying, "We will keep working on the basics of Ethan's game. We are specifically working on target/consistency, spares, and not thinking. The plan is to keep everything simple and fun. At the end of the day, all I want is for Ethan to have fun and enjoy what he is doing. If he advances to Semi-State, then that is just an added bonus."
This is Coach Lawrence's first year coaching bowling, although he has helped and given people advice before.
"Coaching in general at Bishop Noll is definitely interesting. But coaching the boys and girls bowling team has been a lot of fun. I had the wonderful opportunity to meet and get to know so many talented athletes and beautiful personalities." Lawrence said., "It has been an honor being able to coach such open-minded and understanding athletes who trusted in me enough to advance their games to the next level.
"My hopes for regionals is that I play as hard as I did for sectionals and move on to semi state and hopefully farther. Even though this is a secondary sport for me, I always play competitively no matter what," said Lopez.