Senior Antoine Lewis honors his love and loss through sports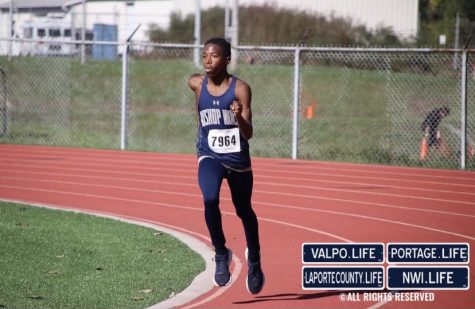 Antoine Lewis has gone through many hardships, but the saddest day in his life was seeing his first real friend in a casket.
Good times of visiting Karl Lewis' house, playing video games, and basketball suddenly disappeared. There he was at the first funeral he's ever been to, not fully understanding what had happened. Then he saw Karl in the open casket.
"My heart dropped and I cried," said Lewis.
Karl passed away shortly after he joined the military when Lewis was only seven years old. His funeral was the first funeral Lewis ever attended. 
Lewis considered Karl to be the older brother that he never had. He held a strong place in Lewis' childhood and played a big role in making him into who he is today. 
"He always taught me that age doesn't define how much of a man you are and to always take high roads in situations. I guess that's why I try to be as nice as possible to others," said Lewis. 
As a student athlete Antoine works hard to balance school and sports to make his cousin proud. He uses this motivation and the inspiration of his cousin to put in full effort into the sports he participates in by exercising and staying active to stay healthy and prepare for the seasons. 
"Training is a big part of keeping success," said Lewis, who has. 
He has participated in basketball, soccer, cross country, and track and field while at Bishop Noll. Most recently, Lewis qualified for cross country semi-state after running his personal best at the regional meet in Crown Point with a time of 18:15.9. Running gives a feeling like no other from which Lewis has felt, desired, and thrived in. 
"My favorite would be track and field and it's actually what I want to pursue in college. I just like the sense of competition," said Lewis, "I'm not that tall so I feel like that holds me back in other sports. In track it's different because I believe anyone can succeed if they're willing to work for it."
Lewis also makes sure his cousin's memory is kept alive through himself. Running gives Lewis peace. There's something about putting one foot in front of the other, while hearing his feet pound against the track that just helps take Lewis' mind back to the memories he made with Karl. Running gives Lewis a sense of peace where he can think about memories with Karl like staying up late playing video games until their eyes burn from exhaustion, shooting hoops in the driveway, and laughing so hard together that their stomach hurts.
"I honor Karl by writing his name and death date on my track shoes when I run. I also wear the number 28 because his death date adds up to it," said Lewis. 
He honors his cousin through doing things he truly loves and always holds his memory dear. Sports have also helped him cope not only with his loss, but with the stresses of everyday life. 
"It's a stress reliever and a fun one at that. I can never just stay in one place so I need something to keep myself occupied. Growing up without a ton of funds, sports is what I looked up to," said Lewis. 
The first sport Lewis ever participated in was basketball in the 5th grade. He played for St. Stanislaus Elementary School in East Chicago, IN. Antoine went to St. Casimir school in Hammond, IN, but the school didn't have enough players to make a team so they were mixed with the boys from St. Stanislaus in order to play with a full roster with Lewis' dad as the head coach. 
Lewis' first game of the season came rolling around the corner. 
"It was nerve wracking playing my first game. It was away and my dad was the coach so he blessed me for us losing so badly," said Lewis.
Lewis' team lost the game 8-32. It was his first loss related to sports. 
Lewis' first win was a home game they played after he felt more comfortable on the court. It was only the third game of the season, but Lewis had found his rhythm with the ball. Many of his own classmates and friends came to watch.
"Playing in front of people you know really helps," said Lewis, "I started hitting 3s left and right and ended up with 28 points and the win. It felt great."
Lewis was proud of himself and he knew that his cousin would be proud of him too.
From then on Lewis gained his love of sports by joining more teams/sports. In middle school Lewis also began to participate in soccer and in track and field. In high school Lewis still participated in those sports along with joining cross country his senior year. 
"I hope that I'm making Karl proud day by day and he sees just how far I've come to make my accomplishments," said Lewis. 
In basketball, he was named MVP for 4 years in middle school and a runner up in a tournament. He was also the captain of the jv team sophomore year. In soccer, he got the award for most improved sophomore year and was named player of the match in a varsity game junior year. In cross country, he made it all the way to semi state. In track, he was MVP for 4 years in middle school. He also received the heart and desire award junior year, and now he is a captain for this upcoming season.
"You have to be willing to work for accomplishments. You won't be able to achieve anything if you don't work for it," said Lewis.