Stress relief through dance
Sophomore Adams uses dance as a way to cope with stress
School work, volleyball, and theater are all parts of her daily after-school responsibilities. However, dance helps bring her the feeling of being free and that there is nothing that matters. Dance gives Taylor time to herself with no stress.
Nothing in the world around her matters but her love for dance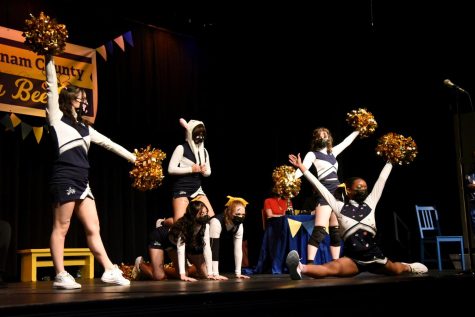 She started dancing when she was 5-years old because she wanted to feel like she was involved with something. She first started taking dance lessons at her old school in 2011.
According to Taylor, dance makes her "feel connected to the music and takes me on a journey where I can be myself." 
She loves dancing around her house and with her friends 24/7.Her favorite styles are lyrical and contemporary.
She has been in the same dance group since she started dancing. They don't compete in competitions, but they will perform for anyone that asks them too.  As of now, Taylor has a performance coming up that she and her group are working on. The group is able to learn a new dance in 30 mins. They can have fun in practice and look great during their performances. "When practice is over we dohe peanut butter jelly time dance," Adams says. 
Along with her talent of dance, she has the talent of acting. She uses both for the musicals at the school. Last year, she was in the 25th Annual Putnam County Spelling Bee as a cheerleader, performing–and choreographing many of the moves. Although none of the actors were real cheerleaders, the audience's reaction said that they were the most realistic cheerleaders they have ever seen. In this year's musical, Xanadu, she is the muse of dance called Terpsichore. 
Through her journey, she always had the support of her family and her friends would always hype her up. After high school, Adams thinks she will continue to dance in her free time. Any of her close friends know she can dance, people that are new to her will find out she can dance and that she is pretty good at it. She's able to reveal who she is through dance. 
"My dance is very chill and I go with the music so people see me as a chill person that they can talk to about anything," she says.