Bishop Noll's BSU celebrates Black History Month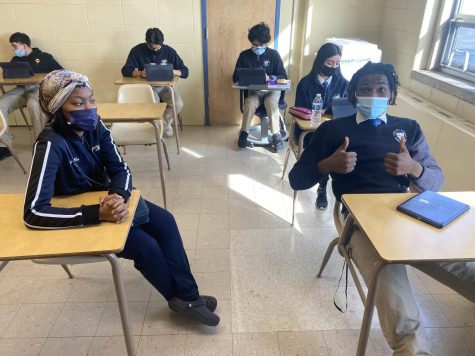 With Covid and e-learning days once again disrupting plans, Bishop Noll's Black Student Union has had to cancel many plans for Black History Month. However, members of the union and many of its members still managed to celebrate this February.
"This year's theme of Black Health and Wellness is important to the BSU," Mrs. Victoria Hibbler, math teacher, said. "We plan to continue to meet bi-weekly to check on our members to see how they are doing physically/mentality. We will try to help support our students as much as needed by directing them to resources around Bishop Noll."
BSU member, Richelle Mallory, celebrated by indulging in her culture with her family while further educating themselves on African American figures that are widely known. She also took a trip to the DuSable Museum of African American History in Chicago Illinois.
"That museum is a must-see when you're in Chicago. There's so much historical significance to the city and country, from modern art, civil rights to enslavement," she said. My favorite was the interactive tour of Harold Washington and inspirational quotes, I can't wait to go back."
BSU members hung pictures of Black figures around the school last month. They plan to have a historically Black college and university round table later in the school year, which allows all students to learn about HBCUs and ask questions they've always wanted to know.
"I think students and teachers can educate themselves by reading a lot of Black history novels and watching documentaries because that's what I like to do–or even research online," said Mallory.