Senior Kayode Olaoye receives Chick Evans Scholarship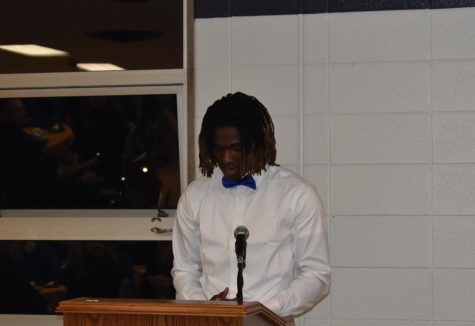 Senior Kayode Olaoye heard the news that he received the Chick Evans Scholarship–an academic caddie scholarship that offers a full ride tuition for four years, off campus housing accommodations, and career opportunities during and after college–on March 4, 2022. Olaoye has been caddying for four summers at Flossmoor Country Club in Flossmoor, Illinois in order to be eligible for the scholarship.
"To earn this scholarship you need a strong academic record, caddie at a golf course for 3 full summers, and be active in your school and community," said Olaoye. 

This and other factors played a role in Olaoye's success in achieving this scholarship.
Olaoye said he was "Dedicated to the caddie program, looking forward to achieving the scholarship, and learning and retaining lessons while caddying, prior to applying for the scholarship."
Olaoye has also joined the golf team in order to become an "efficient" caddie for this scholarship. 
"I have played on the BNI golf team for 2 years," said Olaoye, "I joined because I wanted to enhance my skills as a caddie so I can be more efficient when I'm on the golf course during the summer."
BNI's golf coach David Padilla has coached Olaoye these past two years.
"Kayode always has a positive outlook whether we win or lose. He is always encouraging his teammates when they are having a bad round of golf," said Padilla, "It's been a pleasure coaching and getting to know Kayode. He has a great personality and a positive attitude that will lead to a successful career."
Padilla knew Olaoye was a good candidate for this scholarship.
"He has maintained a high academic GPA during his four years at Noll. Kayode has an exceptional character both on and off the golf course," said Padilla. 
Olaoye is one of Bishop Noll's graduates of distinction this year with a GPA of 4.0. He was inspired by his older siblings to put in the effort to receive this scholarship.
"My sister, Anyah Akanni, received the Evans Scholarship in 2015 and attended Northwestern University and graduated in  2019, and my brother Michael '19 also received the scholarship in 2019 and currently attends Kansas University," said Olaoye. 
Olaoye will be attending Purdue Lafayette under this scholarship next year in order to become a biomedical engineer. 
"Start as early as possible and stay dedicated to your school work and caddie duties to earn this scholarship," said Olaoye.