Sophomore theology students complete project on evangelization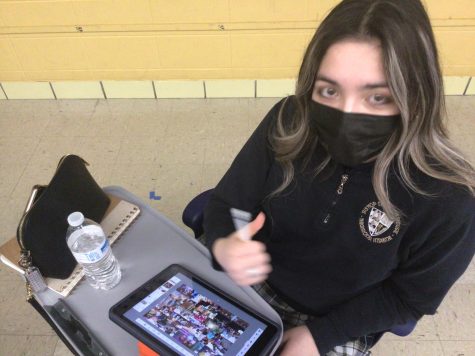 Mr. Kevin Driscoll's sophomore theology classes completed a project on April 12, 2022 on evangelization in order to understand the concept of evangelization in the world.
Students had the option to complete either a photo collage of 12 or more photos that they thought represented evangelization or to create a Ted Talk that required them to talk about the main points of evangelization and why students should do it.
"The overall theme was evangelization, how we spread the Gospel through word and deed. Students could either make a photo collage or record a Ted Talk-like video," said Driscoll. "If a student chose to compile a photo collage, he or she showed me examples of how evangelization takes place in the world. If the students chose to submit a Ted Talk, he or she shared a bold witness of his or her faith, so that others who would watch would know the importance of faith in Christ."
In his lessons leading up to the project, Driscoll stressed that though it might not seem like it to everyone, evangelization is very important to the spread of Christianity. It is even better when the people doing it are teens. Even though teens have the power to spread the Gospel, due to them scrutinizing each other, they seemed to be held back.
"Statistically, most young people believe in God, and most students at Noll want to go to a school where God is Present and alive in the hallways. But many, if not most, for whatever reason refuse to talk about it, as if they will be judged poorly for having a faith in Jesus Christ," said Driscoll. "At a Catholic school, that is just so mind-boggling. BNI exists because of Catholic Christianity. Sometimes I just don't get it."
Driscoll always assigns projects for each section of their theology book, but this one was different. Instead of group projects and illustrations and essays, the students have to come up with something more descriptive.
"I don't know if I could honestly say this was more creative. If anything I think it was less creative," Driscoll said. "But it is consistent with other projects that have encouraged students to make a connection between their Theology education and their lived realities."
Even though it is obvious most of the students might not care about the project and might be trying to get it over with, it might be good for the ones who do care. It might help them spiritually.
"Based on some of the Ted Talks I have seen and based on student reflections I've read for three years, there is some genuine holiness in BNI students. The real challenge is for students to have the courage to share that holiness. Most think it will lead to persecution, but if more tried, they would find a supportive community, I have no doubt."
Even though Driscoll knows every student won't put in their best effort, he has expectations. He wants to "push" his students out of their comfort zone.
"I simply ask that students be open to my process. Those that are receptive end up better appreciating how Theology class fits into their BNI education and their faith life," said Driscoll. "Those that resist get frustrated and usually don't like me too much. I'm okay with that!"
Sophomore Briana Diaz, who chose to do the photo collage option, thought that the project was effective in getting the lesson across to the sophomore class.
"I think the project helped me realize there's a lot more that is within my reach to have the same impact as to bigger projects," Diaz said.
Diaz chose the collage option because she thought it would help her visually see the potential she could do and reflect it on her project. She focused on ways to improve spiritual growth.
Like her teacher's response, Diaz says that evangelization is important for her to learn because "it is the whole foundation of ways to carry out Christ's mission to spread good."
Sophomore Daisy Gonzalez also chose the photo collage option.
"I chose the collage because I really like the creative liberty you get to have when you organize all the pictures. It just seemed to interest me more than the Ted Talk," Gonzalez said.
Not only was the project interesting to Gonazlez, it was also inspirational.
"I feel like now that I've researched these ways of evangelizing I feel more compelled and inspired to follow these examples," said Gonzalez, "I feel like researching all of these examples of people evangelizing will allow me to see how I could possibly help in evangelizing."
With the photo collage students were able to be more creative to make theirs different from their fellow students. Being an overachiever and more engaged than most, Gonzalez went above and beyond with her project.
"I tried my best to find more pictures than were required. I also wanted to make sure I stuck with a similar bright and fun color scheme for all of the pictures. Last thing I made sure to do was come up with long and thorough responses that would really get the point across. I think this made my project different from others," said Gonzalez.
Evangelization is an important skill to have. It might come easier to some more than others. There are many fun and creative ways to do it, just like this project.
"I think it's important for us teens, as Christians, to realize that simply saying we're Christian is not enough. We shouldn't be scared to share our faith with others. It's important for us to learn the ability to evangelize because only then will our faith continue to grow."