BNI celebrates Honors Night in-person for first time since 2019
The annual Honors Night celebration will be held on Wednesday, May 18, at 6:30 in the Bishop Noll auditorium. This event celebrates current and new members of the academic Honors societies and all of their hard working achievements.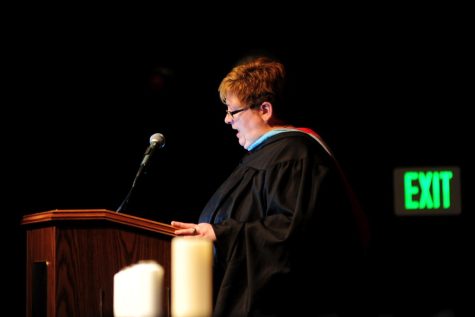 The National Honors Society, National Spanish Honors Society, International Thespian Society, and National Chinese Honors Society will be inducting their new members. 
For the past two years, the event was only live streamed. This year will be the first time since 2019 that families of the honorees are invited to attend. Additionally, this will be Ms. Stacia Bolakowski's, National Honor Society sponsor, last event before she leaves Bishop Noll to become campus minister at Ancilla College.  
Senior Aaliyah Crawford, is already a well-known student who has been active in the NHS and says that NHS is a growing and maturing experience for her. 
"I think the NHS has made me a more patient person," Crawford said. "Since I have taken over tutoring, I had to learn that it takes immense patience. Scheduling those who need tutoring and tutors to help them takes a lot of time and can be frustrating, but I learned patience from it so in a way it is beneficial."
Crawford also has advice for the underclassmen coming into the NHS. 
"I think the underclass men should carry on a sense of bringing life to clubs," she said. "It's easy for the NHS to be all work all the time, but individuals can make it fun. Talk to everyone, make jokes when the time is right, and remember that people need your help sometimes."
With the induction ceremonies, it can be scary. There is a lot of responsibility waiting in the future for the new inductees. Sophomore, Iris Romero, is a new inductee for the NHS. 
The induction ceremony coming up makes Romero feel proud of herself for accomplishing goals and getting into the NHS. She is also a part of the International Thespian Society. Romero is proud of her achievement.
Romero also looks forward to tutoring because she is eager to help people and share her knowledge with others because she is good at a lot of things. Romero wants to help make other people's lives easier.
The National Spanish Honors Society is led by Mrs.Hicks. 
Junior Maria Quiroga, future vice president of the NSHS, has new responsibilities awaiting her. 
"I'm really excited to be Vice President of SNHS! I think it's going to be really fun and I hope that we can all work together so that the Spanish National Honor Society has a bigger presence throughout the school," she said.
The International Thespian Society will also be celebrating their new inductees. Mrs.Kayla Konkle, theater sponsor, is over the International Thespian Society. 
Abigail Wojtasek, Senior, is well known for her activeness in both the NHS and the International Thespian Society. Her experience in the International Thespian Society has been rather fulfilling for her. 
"As a member of the International Thespian Society, I take part in events in the state of Indiana. Namely, I can compete in state events for theatre such as in monologues or musical performance. I am also the President for our chapter, and my duties for that are the same as mine for being Drama Club President," says Wojtasek.
She was inducted into the International Thespian Society last April. She will now share that same accomplished feeling with the new inductees. 
"I read a passage dedicated to the importance of theatre and was inducted at the highest level of International Honor Thespian, achieved by earning 180 "points." This year, I will be inducting the new members into the chapter," says Wojtasek.
The National Chinese Honors Society is run by Ms.Niu. 
"My expectations are that our inductees do excellent in academics, service, character and leadership," said Nui.
Ms.Nui will be inducting six new inductees along with four second year inductees and two third year.
All of these special societies will be passing on their traditions and providing new experiences and opportunities for their inductees.