Heading UpSTREAM
Bishop Noll continues advancement in STREAM curriculum with new lab opening August 2019
A new take on education, an in- novative future: Bishop Noll in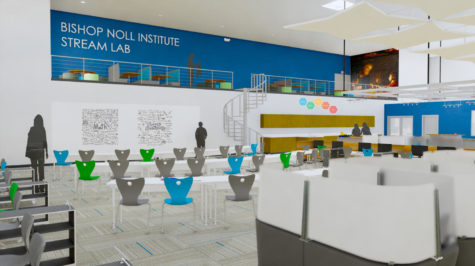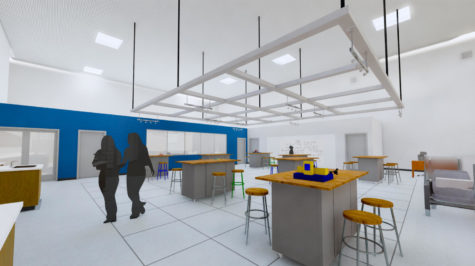 – troduced its plans for a new state of the arts education facility, a STREAM Lab, that will be constructed by August of 2019. It will be located in the Whelan Activity Center, better known as the WAC.
STREAM, stands for Science, Technology, Religion, Engineer- ing, Arts, and Mathematics; and is Bishop Noll's adaptation to the na- tionwide future of learning: STEM or STEAM. As a Catholic school, BNI is incorporating religion into the advancing educational field. Its hope: to be the first Catholic school to offer a state of the art facility in the state of Indiana.
Despite the project costing approximately $1 million, it is the best investment for Bishop Noll students. Pastrick, principal, says the investment is something that will benefit the students more than any other renovation or addition. Pastrick's statement is geared towards the building's lack of air conditioning and students confu- sion on the Lab's decision opposed to an AC unit. While air conditioning is needed, it isn't something that would be used on a regular basis, says Pastricks. Meanwhile, a STREAM Lab would be in constant use.
"A STREAM Lab can be used throughout the whole year; 180 days times four which you'll be a student here. So, I think it's just a better investment and it focuses on your education," she says.
Pastrick emphasizes the impact the lab will have on students and their academic success. STEM is the future of learning and the "real world". She established a committee of teachers from different departments and they spoke with numerous business leaders; their goal: to find out what businesses look for in employees. The answers indicated that a STREAM lab was the best way to train students to become marketable employees that were ahead of competition. STREAM was the way to meet these expectations.
The lab will feature three distinct spaces that focus on the STEM design model. It will benefit stu- dents directly with an ultimate goal of making learning better for students. Freshman who took the STEM course through Project Lead the way last year, had an input on the lab through opinions. Due to these considerations, the Lab will accommodate a new form of learning with mobile seating, tables, and chairs that are also comfortable. While offering all the technologies needed for STEM.
"We were very intentional to serve what you guys need and meet you where you are; so, you are more comfortable in a classroom setting. We are expanding that to really meet where you guys are at … and giving you those tools to make you more successful.", says Pastrick regarding the lab's purpose for stu- dents.
The lab's spaces include a makerspace, a prototype-space, and classroom space. As well as a mezzanine level. The makerspace is an area designed to create; it allows students to become hands on, use tools, and is designed for easy clean up. The prototype-space is an area designed to allow students to create a finished prototype and will feature commercial grade equipment, like 3D printers. The classroom space is the adaptation of a learning studio that will allow students to work collaboratively. While, the mezzanine level (up- stairs unit) creates a separate space for students to work. The design will also feature a mural of St. Jo- seph the worker, as reminder of our ultimate teacher.
The lab's flexibility and space allow it to cater to more than just STEM classes. Mr. Brian Pillar, business teacher and member of the teacher committee, said
"The lab will be set up to enhance our ability to work collaboratively across the curriculum.", when referring to the lab's flexibility. Teachers in other learning depart- ments will be able to request the lab and use it. In addition, the size and different spaces make it pos- sible to hold more than one class at a time.
Due to its size, accommodations, and air conditioning features, the lab will also serve as a "refuge" room during the hot weather months.
The STREAM Lab is a major step in the right direction for Noll
and for 21st century learning. Pillar says that the lab also creates a new way of marketing to promote the school, catholic education, and help increase enrollment. This all comes at the perfect timing as Bishop Noll moves into its 2nd century of education. While Bishop Noll is approaching its centen- nial period of operation, Pastrick makes it clear that Bishop Noll is adapting itself to ensure that they are present in education for the next 100 years that come.