Noll hockey team wins Adam Milani tournament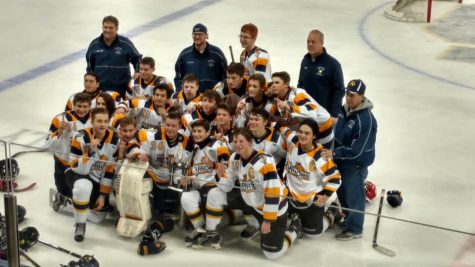 At the height of Bishop Noll's second consecutive returning hockey season, the Warriors are  currently  4-4-2. Their crowning glory thus far, though, was their recent 1st place win at the 8th annual Adam Milani hockey tournament on November 27 at the University of Notre Dame in South Bend. According to assistant coach Josh Belko, the team looks to continue their streak as a surprise upset in the region.
"I think we have a very good chance of surprising some teams up here and down state, and depending on where we are seeded in the state tournament, we have a very good shot at winning a State title this season," Belkos says.
This is Belko's first year coaching at Noll, but he is happy with the group of players, which includes three players from Noll and the rest from Marquette and Andrean.
"So far this season has been an adjustment as this is my first year coaching high school as well as being an assistant coach. Previously, I was coaching some 10U & 14U teams down in Evansville, so it's been a bit of adjustment to coaching high school kids, but it has been a good experience so far."
Coach Belko also commented on the Warriors' strengths and weaknesses.  
"I think our biggest strengths are our overall team speed, and some very hockey-smart players like Alex Sobilo or  Tyler Stailey. Our biggest weaknesses so far has been not being consistent with our effort depending on who we are playing. The other weakness has been taking penalties at some inopportune times.
Noll gained freshman Joey Vessely, who, according to Belko,  "has made a big impact chipping in 9 points through the first ten games."
For Noll revival hockey fans looking forward to a successful season, Belko says they can see the team d compete in the Roper Cup Playoffs (Illiana League Championship) in January and compete for a State Championship in March.
Save