High jump State qualifier keeps eye on prize while playing other sports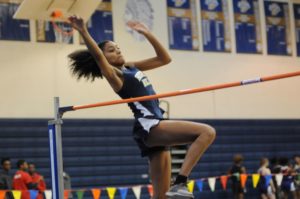 After qualifying for State last year in the high jump, junior Eris Harris hopes to do the same this year and do even better.
  "I plan to go to state again, hopefully, and at State I hope to beat my P.R. (personal record) which is currently 5'4. I would also like to go to State for some running event, as well as high jump."
   Eris participates in the 4×1, 400 meter dash, and the 4×4, sometimes depending on how tired she is, she said.
  Eris says she works consistently in the  offseason to prepare herself for this year.
  "I just recently started to train with the cross-country team, mainly weightlifting to make my legs stronger for both running and high jump. I also got a gym membership so I can workout alone,"  she said.
 Eris also plans to make many adjustments for the season, including cutting down her times, especially her 400-meter dash.
   "My current best is 1:02 and I want to make it below a minute," she said."I am going to be more focused this season because usually I am very playful and stuff before meets, but this year really counts so I need to stay focused to achieve my goals."
Eris said that the highest she had ever jumped was 5'4, and she has jumped it many times. To prepare herself before a meet she has many thing's that she does. "I always listen to music as we are arriving or just before the meet. I do about 15 different stretches to make sure that I all loose and ready to go. I run around the track in my high jump spikes just to get comfortable in them."
           Eris said her biggest goal was to return to state but this year her main goal of the season a is to win state.