Kdulche Cafe sweetens downtown Lansing
With all the bad news circulating in the world right now, it seems like the world is just a dark, bitter place. Sometimes, it's nice to take a break and change scenery to a brighter and happier place. This is exactly what Kdulche Cafe in downtown Lansing, IL aims to do.
The restaurant immediately sets the tone from the outside. It's colored a bright pink and has windows that show a beautiful interior. Unfortunately, there aren't too many parking spaces. I'd say there were about five parking spots reserved for the cafe (including parking for the disabled) with more parking along Ridge Road.
I came to the restaurant with my mom and my brother. When we entered the store, we looked around a bit to just admire the scenery. The store wasn't very busy with only one other group there. There was soft music playing in the background. We sat down at a table and got our menus.
The menu doesn't have too much to offer, but they do specialize in Mexican meals and desserts. We saw milkshakes, sandwiches, salads, and other stuff. All the food looked amazing and some of it came decorated. I ordered their Caesar salad. They had a kid's menu (albeit a small one), so my eight-year-old brother ordered from that. He got a corn dog and some orange juice (he is a very simple man). We found out that they offered an all-day breakfast menu when my mom ordered an egg and cheese sandwich (despite it being 4:00 in the afternoon) along with decaf coffee. Luckily, the people there spoke Spanish (the owners are Mexican immigrants after all), so my mom was able to order without much difficulty.
I'm a pretty picky eater, but I found the food to be really good. My mom had already eaten before we got here (maybe because she forgot that she was taking us here?), so I got to eat a part of her food. It was SCRUMPTIOUS. In the end, we spent around $20.
The restaurant is definitely a great place to visit. I didn't really have any problems with it! Great food, friendly staff, and a happy atmosphere! The scenery was so nice it was impossible to leave without a picture!
4 out of 4 Stars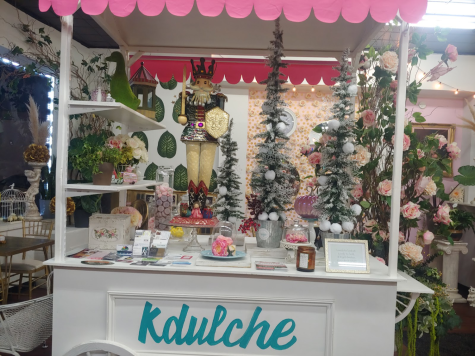 This display is one of the first things that you see when you enter Kdulche Cafe. It's Christmas themed ('tis the season after all), featuring some plants, business cards, inspirational quotes, and a nutcracker!
KDULCHE CAFE LLC
Address: 3521 Ridge Rd, Lansing, IL 60438
Phone: (708)-889-6235
Hours: 10a.m.-5p.m. Sunday; Closed on Monday; 9a.m.-5p.m. Tuesday-Thursday; 9a.m.-8p.m. Friday-Saturday
Payments: Accepts cash and credit cards
Sound: Soft music; not many people talking
Service Options: Includes dine-in and take-out, but no delivery service
Accessibility: Great for people in wheelchairs (includes wheelchair accessible bathroom)
Has free wifi