Homecoming Recap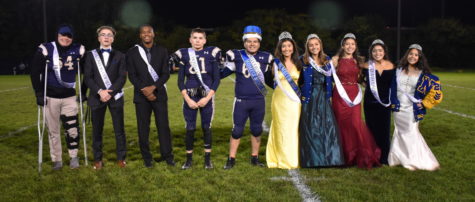 On Friday, October 11, Bishop Noll celebrated the 30th anniversary of 1989 Class 3A State Football Championship while, playing their last home game of the season and celebrating their homecoming. 
    The Bishop Noll Warriors faced the South Central Satellites on the coldest night of the season. Despite the weather Bishop Noll celebrated its senior night and homecoming king and queen crowning. 
    During half time the homecoming court took over the field. Christopher Valdez and Angelica Solis were crowned king and queen.
    Chris described his feelings as he was crowned, "Well, honestly it was really surprising that I actually won homecoming king. My mindset was whoever won homecoming king, was Bishop Noll's representation and I'd be so happy for whoever it was. I appreciate everyone who voted for me and believed I represent Bishop Noll."
Angelica expressed her gratitude and emotions, "I was very honored to win homecoming queen. I really felt all the love and support from everyone. I truly believe we were all queens and kings. But it was quite emotional, it was our last homecoming dance and it made me realize how soon we will all be graduating and saying so long."
The night ended with South Central beating Bishop Noll 48-12 and the homecoming celebration kicking off.